Autonomous Kingdom of Prussia

---

Motto
Suum Cuique (Latin; To Each his Own)

---

Anthem
Preußens Gloria by Johann Gottfried Piefke

---

Capital city
Regis Castrum
Largest city
Nassau
Official language(s)
German (de jure), English (de facto)
Official religion(s)
Christian
Demonym
Prussian
Government
Parliamentary monarchy
- King
King Justinian I
- Prime Minister
None currently Elected
Legislature
Prussian House of Lords(Upper House), Landtag(Lower House)
- Type
- Parliment
- Last election
- Has yet to grow large enough to convene a legislature
Established
August 14, 2012
Area claimed
174.3km or 108.3 sqmi
Population
5
Currency
U.S Dollar (de facto), PreußenMark (de jure)
Time zone
UTC -05:00
National animal
Dog
The Autonomous Kingdom of Prussia was founded on August 14, 2012. Some of the symbols used by the micronation, had been used by the macronation the Kingdom of Prussia. It was officially dissolved on January 7th 2018 by decree of the King.
Etymology
The name Prussia derives from the Old Prussians. In the 13th century, "Old Prussia" was conquered by German crusaders, the Teutonic Knights. In 1308 Teutonic Knights conquered the formerly Polish region of Pomerelia with Gdańsk (Danzig). Their monastic state was mostly Germanized through immigration from central and western Germany and in the south it was Colonized by settlers from Masovia. After the Second Peace of Thorn of 1466, Prussia was split into the western Royal Prussia, a province of Poland, and the eastern part, since 1525 called Duchy of Prussia, a fief of the Crown of Poland up to 1657. The union of Brandenburg and the Duchy of Prussia in 1618 led to the proclamation of the Kingdom of Prussia in 1701.
History
Founded on August 14 of 2012, Prussia can trace its origins back to the year 2000. The Prince, in middle school at the time, decided to get into maps, and history. A favorite part of history was German history. When Prince Justin I was in the 10th grade, himself under the name King Dameon Fear I and a friend, Joseph Elkins, under the name of King Darius Alucard Silver I, had decided to create a nation, encompassing the area of Europe that their families came from. So, with that, the Empire of Dominio was born, with both men as monarchs. Time went on, and Joseph decided against it, and Dominio was no more. As time went on, King Justinian I, still wanting to lead a country, set up Prussia as what could be considered a modern version of the Empire of Dominio.
Empire of Dominio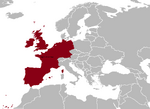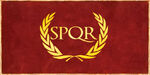 Founded in 2003, later abandoned in 2010, The Empire of Dominio was a micronation that was run by King Dameon Fear I (King Justinian I of Prussia) and his friend King Darius Alucard Silver. The location came from the two leaders' heritage. Darius/Joseph is Spanish and Dameon/Justin is German, Irish, French, Dutch, Scott, and English. Other European nations (Portugal, Belgium, Luxembourg, and Andorra) were included to give the nation more shape to it, and to include the whole of the Iberian Peninsula.
Bear Flag Republic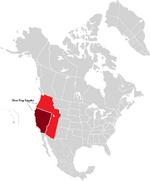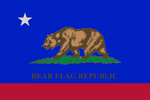 Founded in 2005, later abandoned in 2007, the Bear Flag Republic was a micronation founded by Justin I. It was abandoned due to lack of interest in the idea of a micronation, though the Empire of Dominio still existed in Europe.
Geography
The micronation had been located mainly within the United States.
Climate
Depending on the area lived in, the climate of Prussia ranges from Humid Subtropical (all territories), Highland (Alpine) (Colony of Reno),and Polar (Protectorate of New Swabia).
Politics
The Autonomous Kingdom of Prussia was a Constitutional Monarchy. Following Prussia's first constitution, a two-house parliament was formed. The lower house, or Landtag is elected by all taxpayers, who are divided into three classes according to the amount of taxes paid. This allowed just over 25% of the voters to choose 85% of the legislature, all but assuring dominance by the more well-to-do elements of the population. The upper house, which is named the Prussian House of Lords, is appointed by the King. He retains full executive authority and ministers are responsible only to him. As a result, the grip of the landowning classes, the Junkers, remain unbroken, especially in the eastern territories. Prussian Secret Police, aid in the conservative government.
Constituent states
The Autonomous Kingdom of Prussia had been divided into six territories, one colony and one protectorate.
Territories, Colonies, and Protectorates
Foreign relations
Recognized Macronations/ Macronational Unions

Informal

Allies
Templar Kingdom

Constituent Nation of

Organizations
World Union

Historically apart of

Military

Though the Autonomous Kingdom had only one person who is in the Army, King Justinian I, designs for military uniforms were made.
Below is a list of the patterns, and their usage.
| Pattern | Date | Use |
| --- | --- | --- |
| | 2013- | Jungle usage |
| | 2013- | Urban combat |
| | 2013- | Desert Usage |
| | 2012- | Home base usage |

Historic Ribbons of the Prussian Military
| Medal | Date | Use | Description |
| --- | --- | --- | --- |
| | 2012 | Star Iron Cross | Awarded for "Gallantry and intrepidity at risk of life above and beyond the call of duty" |
| | 2012 | Grand Iron Cross | Awarded for "Extraordinary heroism" |
| | 2012 | Iron Cross 1st Class | Awarded for "Gallantry in action" |
| | 2012 | Iron Cross 2nd Class | Commendation medal |
| | 2012 | Iron Cross Second Class | Achievement medal |
| | 2012 | Iron Cross First Class | Combat Action Ribbon |
| | 2012 | Prussian Overseas Ribbon | Awarded for service in an overseas area |

Culture Mainly surrounded by the United States, Prussian culture is heavily influenced on American pop and sub cultures.
Religion
Christianity is the main religion in Prussia.
Languages
English was the main mother tongue in the nation. German had been mainly spoken by the King himself. Spanish had been spoken throughout the Autonomous Kingdom as well.
Education
The main center for higher education in the nation is St. Johns River State College. In 1958, the institute opened its doors in Hesse-Nassau to 191 students. Two high schools are opened in the main portion of the Autonomous Kingdom.
Virtues
Austerity or Thrift (German: Sparsamkeit)
Bravery without self-pity (German: Tapferkeit ohne Wehleidigkeit) "Lerne leiden ohne zu klagen." Translation: "Learn to suffer without complaint."
Determination (German: Zielstrebigkeit)
Discipline (German: Disziplin)
Frankness or Probity (German: Redlichkeit)
Godliness, coupled with religious tolerance (German: Gottesfurcht bei religiöser Toleranz) "Jeder soll nach seiner Façon selig werden." Translation: "Everyone shall be blessed according to their own belief."
Humility or Modesty (German: Bescheidenheit)
Incorruptibility (German: Unbestechlichkeit)
Industriousness or Diligence (German: Fleiß)
Obedience (German: Gehorsam) "Seid gehorsam, doch nicht ohne Freimut." Translation: Be obedient, but not without frankness.
Punctuality (German: Pünktlichkeit)
Reliability (German: Zuverlässigkeit)
Restraint (German: Zurückhaltung)
Self-denial (German: Selbstverleugnung) The German author and soldier Walter Flex (1887-1917) wrote "Wer je auf Preußens Fahne schwört, hat nichts mehr, was ihm selbst gehört." Translation: "He who swears on Prussia's flag has nothing left that belongs to himself."
Self-effacement (German: Zurückhaltung) "Mehr sein als scheinen!" Translation: "Be better than you appear to be!"
Sense of duty or Conscientiousness (German: Pflichtbewusstsein)
Sense of justice (German: Gerechtigkeitssinn) Jedem das Seine or Suum cuique
Sense of order (German: Ordnungssinn)
Sincerity (German: Aufrichtigkeit)
Straightness or Straightforwardness (German: Geradlinigkeit)
Subordination (German: Unterordnung)
Toughness (German: Härte) "Gegen sich mehr noch als gegen andere." Translation: "Be harder against yourself even more than you are against others."
Media
On September 19th 2012, Prince Justin I authorized Prussia to have a media outlet.
http://prussiannews.weebly.com/ is the official source of all Prussian News.
See also
External links