Ad blocker interference detected!
Wikia is a free-to-use site that makes money from advertising. We have a modified experience for viewers using ad blockers

Wikia is not accessible if you've made further modifications. Remove the custom ad blocker rule(s) and the page will load as expected.
[[Image:|200px]]

Format
Wordpress Blog
Type
News Update
Owner
Leylandiistan Media
Editor
Shane Cahill
Founded
18/12/2013
Political Allegiance
None
Language(s)
Irish (Gaeilge)
Distributor(s)
Leylandiistan Media, Wordpress
Distributed In
Democratic Republic of Leylandiistan
Béal na Tíre is the Irish language journal of the Democratic Republic of Leylandiistan. It was founded by Shane Cahill on the 18th of December 2013. It provides a valuable news service to the Irish speakers of Leylandiistan. It is also one of the most important blog outlets in Leylandiistan. It's website can be found at http://bealnatire.wordpress.com/
Etymology
Béal na Tíre is an Irish name. It means the "mouth of the land", or "mouthpiece of the country".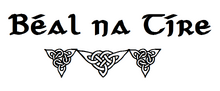 History
Before December 2013, all the news outlets in Leylandiistan were in the English language only. However, President Shane Cahill decided cultural ties were significantly important, and that using the native tongue was an important thing. A speaker of the language since the age of 4, it came upon Cahill to set up an Irish language newspaper. He at first considered a format similar to the Sentinel, Leylandiistan's fortnightly email newsletter. However, an internet blog would be more easy to follow, and news could be made available to the public as it came out. So a Wordpress blog was set up. This is similar to other micronations, who also use online blogs to publish their news. The main headline and article on Issue 14 of the Leylandiistan Sentinel (1/1/2014) was about the setting up of Béal na Tíre. Articles from Béal na Tíre have already featured on the MicroWiki (mw.micronation.org).
External Links
Website: http://bealnatire.wordpress.com/
People

Politics
State Bodies
Economy
Regions and Territories
Culture
Miscellaneous

Béal na Tíre