Members
Ken Bolcar ( Born June 9th, 1961.), Governor of New Prague. Married Susan Sweerus ( Born July 26th, 1963) on August 10th, 1985. They have the following children:
Andrew Neil Bolcar ( Born September 3rd, 1988.), current Shogun.
Laura Rae Bolcar ( Born May 7th, 1990.) Queen of Kingdom of Me.

King
Todd Michael Bolcar
( Born July 27th, 1998.). Current King of
Bolcar
.
On November 14th, 2009 Andrew married Lindsey Shaver ( Born 1986.). They have had two children:
Micah Andrew Bolcar ( Born September 29th, 2011.)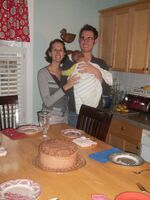 Lucy Ruth Bolcar (Born June 10th, 2013)
Members who have reigned as monarch.
So far, only two people have reigned as king: ( even though there is techinally two reigns, since Todd has reigned twice.) Todd and his brother Andrew.
| Portrait | Name | Born | Reigned | Succession | Died | Time in Office |
| --- | --- | --- | --- | --- | --- | --- |
| | Todd Micheal Bolcar | July 27th, 1998. New York | May 11th - September 8th 2012. | Declared the Kingdom of Bolcar, and made himself King. | Living. | 4 Months. |
| No Picture | 'Andrew Neil Bolcar | September 3rd, 1988. Doffer, NJ. | September 8th to September 16th, 2012. | Ruled as a substitute. | Living | 8 days. |
| | Todd Michael Bolcar | July 27th 1998. New York. | September 8th 2012 - Present | After returning from a trip to Canada, he desposed of Andrew | Living | Ongoing. |