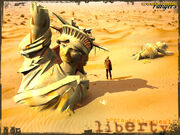 Nomadic
Nations (micronations) - are states of people, who can live outside of the territory of their micronation and can visit that territory some times (one in 100 or 1000 years, for example). In other word, their population are nomads, who currently physically exists in another country.
Media in category "Nomadic Nation"
The following 2 files are in this category, out of 2 total.