The Confederation of Britannia was founded on the 27th October 2011. It claims the island of Britain and all the current British Overseas Territories.
The Confederation of Britannia
Motto: God Save the King!
National Anthem: I Vow To Thee, My Country
Official language
English, Latin
Denonym
British, Briton
Government

Constitutional Monarchy (de jure),

Dictatorship (de facto)

Founded
October 27, 2011
Area
3 acres
Location
Southern England
Population
52
Currency
Imperial Pound Sterling

Head of State

His Imperial Majesty Emperor Lewis I

Head of Government
Sir Mark Hill
History
The nation was founded of the 27th October 2011.
Government, Legislature and Politics
The government is formed by the party that has a majority in the House of the Commoners. The leader of the party become First Lord of the Treasury and he appoints a cabinet to help make decisions. The current First Lord is Lewis Hill, who is a member of the Federal Conservative Party. Currently, the FCP is the only party in parliament due to the fact that none others have been formed yet. Legislature is divided into three distinct houses;
House of Commoners (the 'Lower' House)
House of Nobles, Bishops and Lords (the 'Middle' House)
House of the Privy Councillers (the 'Upper' House)
The House of Commoners is directly elected by the people of Britannia using the first-past-the-post system. The House of Nobles[, Bishops and Lords] is appointed by the Monarch on the advice of the First Lord. The House of Privy Councillers consists of the Monarch and the Cabinet.
At the moment there are many cabinet positions, including;
First Lord of the Treasury
Second Lord of the Treasury
Minister of Defence
Minister of Civil Affairs
Minister of External Affairs and Foreign Relation
Minister of Relations with the United Kingdom and Spain
Minister without Portfolio
Minister of Local Government
Counties and Territories
There are a numerous amount of counties and territories in Britannia. The counties are as follows;
Hawkingsland (County Town - Wells)
Monmouthshire (County Town (also Capital City) - Portsmouth)
Londonshire (County Town - London)
Tinshire (County Town - Saint Austell)
Wightshire (County Town - Ryde)
There are also numerous territories;
Mediterranean Terriotory (Administered from Barcelona)
Servern Territory (Administered from Avonmouth)
Desert Territory (Administered from Devon)
As well as these, Britannia also claims swaths of land over which it has no control.
Culture
Britannia has a lot of culture from many different ethnic backgrounds. Even though there is multiculturalism at play, Britannia is still a heavily patriotic country as evidenced by their national anthem;
I vow to thee, my country, all earthly things above,
Entire and whole and perfect, the service of my love;
The love that asks no question, the love that stands the test,
That lays upon the altar the dearest and the best;
The love that never falters, the love that pays the price,
The love that makes undaunted the final sacrifice.
And there's another country, I've heard of long ago,
Most dear to them that love her, most great to them that know;
We may not count her armies, we may not see her King;
Her fortress is a faithful heart, her pride is suffering;
And soul by soul and silently her shining bounds increase,
And her ways are ways of gentleness, and all her paths are peace.
Britannia also has various national holidays;
1 January - New Years Day
4 March - Empire Day
March/April - Easter
3 May - Thatcher Day
8 May - Victory in Europe Day
25 June - His Majesty's Official Birthday
26 July - Liberation Day
5 September - Resurrection Day
27 October - Foundation Day
25 December - Christmas Day
26 December - Boxing Day
31 December - New Year's Eve
Economy
Britannia's economy mostly relies of the United Kingdom's and Spain's. The national currency is pegged to Pound Sterling for ease and for common sense. Britannia imports oil, wood, food but it exports tin.
Awards, Titles and Peerage
Awards;
Britannia's Shield (a shield engraved with Britannia)
Titles;
The Right Honourable (given to the Privy Councillers)
The Most Honourable (given to all MPs)
His Grace (used by Dukes and Archdukes)
His/Her Royal Highness (used by members of the Royal Family)
His/Her Imperial Highness (used by key members of the Royal Family)
His/Her Imperial Majesty (used by the Emperor)
Peerage;
Baronet (comes with the title 'Sir')
Baron (styled, The Lord Smith or Baron Smith of Swindon)
Viscount (first son is given courtesy title 'Baron', styled The Viscout Smith)
Count (first son is given courtesy title 'Viscount', styled The Count of Swindon or Count Smith of Swindon)
Earl (first son is given courtesy title 'Count', styled The Earl of Swindon)
Duke (first son is given courtesy title 'Earl', styled The Duke of Swindon or John Smith, Duke of Swindon)
Arch-Duke (first son is given courtesy title 'Duke', styled The Arch-Duke of Swindon)
Titles can be very long as evidenced by His Imperial Majesty's full title;
By the Grace of God and of the People, Emperor of Britannia, King of Turkey, King of Iberia, Citizen of the United Kingdom and of Britannia, Defender of Britannia, Lord Protector of Portsmouth, Defender of all Faiths and Defender of Freedom and Liberty.
Military
The military of Britannia is divided into key section each dealing with separate parts of the armed forces' jobs;
Imperial Army (land force)
Imperial Navy (naval force)
Imperial Air Service (air force)
Imperial Guard (Royal Family's bodyguards)
Military Intelligence, Office 1 (external intelligence)
Civil Intelligence, Office 1 (internal intelligence)
His Imperial Highness' Most Loyal Military Police (military police)
The strength of each service now follows;
Imperial Army
5 soldiers - 1st Battalion
1 ship
Imperial Air Service
4 planes (including His Imperial Majesty's)
Imperial Guard
3 guards
Military Intelligence and Civil Intelligence
8 agents
Military Police
None
Map

Industry and Companies
Britannia has many industries and it's economy is dominated by the private sector;
Imperial Telecommunication (Telecommunications) (Private)
National Health Service (Medical) (Public)
United Broadcasting Corporation (Broadcasting, Media) (Public)
Portsmouth Naval Works (Shipbuilding, Building) (Private)
Steel, Gas and Coal Works of Avon (Energy) (Private)
Royal Bank of Ulster (Banking) (Private)
Arabia Company (Mining, Oil) (Private)
National Mail (Delivery) (Public/Private)
British Railways (Railways) (Private)
​Flags and Symbols


The National Flag
The War Flag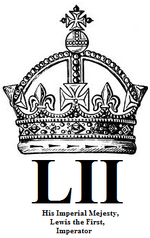 The Seal of the Emperor
(used on official document realating to him,
e.g. Royal Assent) (Lewis second)
Ad blocker interference detected!
Wikia is a free-to-use site that makes money from advertising. We have a modified experience for viewers using ad blockers

Wikia is not accessible if you've made further modifications. Remove the custom ad blocker rule(s) and the page will load as expected.