This article is poor quality and as a result has been marked for improvement. Please discuss possible changes on the article's talk page.
Reason: No reason has been given, please provide a reason or this template will be removed.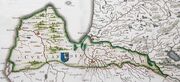 The Duchy of Courland and Semigallia is a sovereign micronation and government in the exile with a well defined territory in Central Europe. However, we do not maintain diplomatic relationships with European Countries and have no territorial or political ambitions or claims. This micronation is ruled by the present relatives of the former Granddukes. History: In 1562, during the Livonian Wars, the Livonian Confederation was dismembered and the Livonian Brothers of the Sword, an order of German knights, was disbanded. On the basis of the Vilnius Pact, the southern part of Estonia and the northern part of Latvia were ceded to the Grand Duchy of Lithuania and formed into the Ducatus Ultradunensis (Pārdaugavas hercogiste). The part of Latvia between the west bank of the Daugava River and the Baltic Sea became the Duchy of Courland and Semigallia, nominally a vassal state of the King of Poland. Gotthard Kettler, the last Master of the Order of Livonia, became the first duke of Courland. Other members of the Order became the Courland nobility Duchy of Courland and Semigallia Website
Ad blocker interference detected!
Wikia is a free-to-use site that makes money from advertising. We have a modified experience for viewers using ad blockers

Wikia is not accessible if you've made further modifications. Remove the custom ad blocker rule(s) and the page will load as expected.