Her Royal and Imperial Highness Emperor Mother Michelle of New Wessex and Austenasia, titled as HR&IH Princess Michelle the Princess Mother in regards to New Wessex alone and briefly known as HM Queen Arsinoe III (or HIM Tsarina Arsinoe II in Orly) (born Michelle Lesley MacDonagh (Irish: Miséil Lioslaí Mac Donnchadha), 13 November 1968), is mother to both Declan I, II & V and Prince Ciaran of Wilcsland and a former briefly reigning co-ruler of Wilcsland and Orly.
A child of Emperor Grandmother Marjorie, the Emperor Mother is one of the main members of the royal house of New Wessex. She has a lot in common with His Majesty King Declan I of New Wessex, and they both have personalites that are quite similar. She, like the King, loves humour and also like the king can be very stubborn. She is a kind and gentle person who at the same time is also very realistic and intellegent.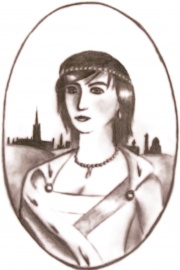 On 25 July 2011, Princess Michelle was granted the title of Princess Mother and the style of Royal and Imperial Highness by Declan I, II & V. Roughly a month later, on 27 August 2011, he appointed her his co-ruler as Arsinoe III in Wilcsland and Arsinoe II in Orly, but deposed her four days later. As mother of the Emperor of Austenasia, she was confirmed in holding the title of HIH Emperor Mother Michelle on 30 June 2012 by the Emperor, having used only her Wessaxon titles before.