Notice |This article is in a federation |Trollers be warned!

Efpiria un Colonia, Empire of Colonia

[[File:

|200px|border]]

---

Motto
It's just a prank, bruh!

---

---

Capital city
South Barwon
Official language(s)
Officials: English and Colonian (in decline) Non-officials: Swedish and French
Official religion(s)
Accessionism
Demonym
Colonian
Government
Constitutional Monarchy
- President
Ethan XXXXXX
- General of army
Tess
Legislature
People's Assembly
- Last election
- August 2015 (United Colonia movement)
Established
December 2014
Area claimed
not calculated
Population
999,000
Currency
Euro (€, internal trade) and Colonian dollar
Time zone
+1
National sport
Baseball
National dish
fish and chips
National animal
Horse
Contact: uffgov@gmail.com

---

https://dutchdog.weebly.com/
The Empire of Colonia is a Geelong-based micronation that surrounds Geelong Grammar School, the Sturt Street Gardens in Ballarat, a large island off the in the North Atlantic Ocean, the South Barwon region and the Borough of Queenscliffe, all in Australia, annexed from the South Barwon region, location anonymous.
History
The history of original Colonia started in 1256 by Belgium monks who settled on an island off the Irish coast. As English swept through the island whose population had risen, the Belgian dialect of French was wiped out. Modern Colonia's history started in 2015 is recorded in a module, located anonymously in the country. It includes events such as the discovery of the planet, (see below), Creation, Revival, etc. People who don't want to live in Colonia and are in it's boundaries (Loyalists), are shown with a boundary around their house on a map.
Religion
The religion of Colonia is Accessionism, a sub-Christian religion that worships the Lord Gaben, memes, the saints (including many Youtubers (Pewdiepie)), and the Illuminati. The worship houses are bedrooms.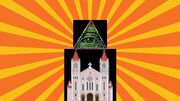 Foreign Relations
Colonia has an embassy in Geelong, Australia, and a consulate in Melbourne. Colonia strongly opposes Donald Trump's actions and therefore won't have any political relationships with the US. The Empire is officialy recognized by 16 official micronations, and holds strong ties with Doveland, Allania, Kingdom of New Yankeeland, Gahooulia, and the Republic of Gran Isla.
Transport
Colonia is connected to Australia by trains, buses, cars, and planes.
Geography
Colonia is surrounded by the coast and is very hilly and moist.
Administrative Regions
There is an administrative region in the east of Melbourne and near Mount Buller, Australia. Colonia has an embassy in Melbourne, it's location censored for privacy reasons. There is an Australian embassy in South Barwon, and an Australian consulate in Queenscliff.
Education
Colonia's education is mainly consisted of private schools, with a couple of public primary and secondary schools.
Culture
Music is very popular in the region and sport is popular as well. Many of the population are associated with the sea in some way. Lighthouses, history and geography are widespread and are loved by the locals.
Military and Defence
Colonia is defended by a high-class military. Colonia is up-to-date with the modern world's weapons. There is a secret service that will not be stated on the internet that spy in other countries, and on the internet.
Imports
Much of Colonia's imports are originated from Australia, U.K, and the Gran Isla. These include
Population (by Colony)
South Barwon- 52,812 Ballarat- N/A Borough of Queenscliffe- 3,017 Colonia isle- 999,913. Canifor-No census taken. Geelong Grammar- No permanent population (approx.900)
South Barwon
South Barwon is the province of Colonia where the empire is administered from. Approximately 50,000 people live there.
Borough of Queenslciffe
The Borough of Queenscliff(e) is the second-smallest of the provinces, having the smallest population as well (1,416). A historic rail line connects Queenscliff to Drysdale, in Australia. A ferry transports cars and people to the East side of Port Phillip, in Australia. There are many historic buildings in the area, most of them maritime-related.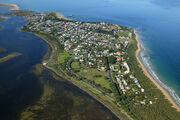 Sturt Street Gardens (Ballarat)
The Sturt Street Gardens is a central reservation running along one of the main thoroughfares of Ballarat — Sturt Street — after which it is named. The province is landlocked by Australia, as you can see in the nearby photo. The formal gardens span 13 city blocks from Grenville Street in the east to Pleasant Street in the west, are 20 metres (22 yd) wide and cover an area of 2.87 hectares (7.1 acres) running east–west.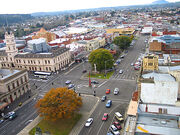 Ad blocker interference detected!
Wikia is a free-to-use site that makes money from advertising. We have a modified experience for viewers using ad blockers

Wikia is not accessible if you've made further modifications. Remove the custom ad blocker rule(s) and the page will load as expected.