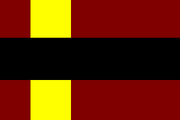 Kolrakian flag is the national symbol of Kolrakia. It is used since 6.11.2013, after the fall of fascist regime.
Meaning
Colors in flag are red, black and yellow. -Red represents justice -Black represents darkness of forests -Yellow represents hope
Flag features a cross, common symbol in Scandinavian flags, representing there Christianity, but in Kolrakia, it does not represent anything in flag. The cross is black with yellow sides.