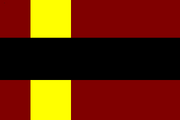 Kolrakian flag is the national symbol of Kolrakia. It is used since 6.11.2013, after the fall of fascist regime.
Meaning
Colors in flag are red, black and yellow. -Red represents justice -Black represents darkness of forests -Yellow represents hope
Flag features a cross, common symbol in Scandinavian flags, representing there Christianity, but in Kolrakia, it does not represent anything in flag. The cross is black with yellow sides.
Ad blocker interference detected!
Wikia is a free-to-use site that makes money from advertising. We have a modified experience for viewers using ad blockers

Wikia is not accessible if you've made further modifications. Remove the custom ad blocker rule(s) and the page will load as expected.