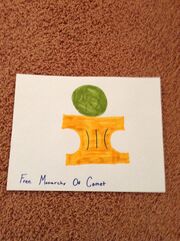 This article is poor quality and as a result has been marked for improvement. Please discuss possible changes on the article's talk page.
Reason: No reason has been given, please provide a reason or this template will be removed.
The Free Monarchy of Comet is a micronation with territory in North America. We have 18 citizens including 1 pet citizen. We are a Free Monarchy. Free Monarchies have a council, co-king or co-king, and a king or queen. First ideas or opinions are sent to the council. If the council approves of it, it is sent to the co-ruler. If they approve, it may be sent to the King or Queen. If it is approved by them, the idea may be put into motion. Comet has 27 laws and 12 rights. The 2 inhabited territories today are Cremona and Sun Summit. Cometians love stories, legends, and helping nature. We try to remain a peaceful micronation and have peace through all of our citizens. We also have 3 citizens you wouldn't expect. Three Gnomes. Their names are Goerge, Nino, and Toet.  Cometian Information: Population: 21 King: Junior Co-King: Charlie Head of Council: Kyle Territories: Cremona, Sun Summit National Reptile: Rusert Tortoise National Dog: Pomchi Culture Cometian culture is full of legends, traditions, and of course, food. Many Cometian stories are short and not exactly realistic. The main religions in Comet are Mormon, Christian, Templist Christian, and Catholic.
Ad blocker interference detected!
Wikia is a free-to-use site that makes money from advertising. We have a modified experience for viewers using ad blockers

Wikia is not accessible if you've made further modifications. Remove the custom ad blocker rule(s) and the page will load as expected.