The
Free Principality of Greater and Lesser Misery Island
, also known as 
Misery Island
, is a small micronation located on both Greater and Lesser Misery Islands in the Salem Sound, Massachusetts. As of 2013 it has a population of 200 citizens. Misery Island was founded on November 27, 2013.
Etymology
Misery Island was named so by shipbuilder Robert Moulton, who was stranded on the islands for three days following a shipwreck in the 1620s.
History
Early History
The first human contact with the islands came by way of the Mosconomet Indians, who lived on the islands until European settlers came to Massachusetts. Salem shipbuilder Robert Moulton was stranded on the islands for three miserable days during a wild storm. When he made it back to the mainland, he dubbed the islands, the Misery Islands. The name stuck, and the islands have been called so ever since. In the 19th century, a fort was built on the island, and it's ruins are still mixed in with the vegetation on Greater Misery.
Modern History
Misery Island has been developed in the past, having been once been home to a casino. In 1926, a large brush fire destroyed all of the homes on Misery, and people lost interest with the islands. The Free Principality was founded on November 27, 2013 by Cole Eriksson.
Geography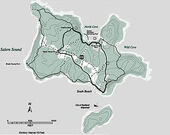 Misery Island is somewhat undeveloped, and foliage still covers most of the islands. The two cities on the island are the entirety of Greater Misery, and the entirety of Lesser Misery. The Islands are located in Salem Sound, very close to Salem Harbor and Beverley. The Islands have also made claims to Fort Sewall, a 17th century fort in Marblehead, MA.
Government
Misery is ruled by duel leaders, the Presider and Under Presider. The Islands hold a National Forum every month to discuss and deal with issues on the island. The Presider and Under-Presider hear the problems put forth, and can decide whether or not to act on them. If the Presider and Grand Conductor decide to act on the problem, a vote will be held at the next Forum to decide on ways to deal with the problem by all citizens of Misery. 
Economy
Misery exports a large amount of fish, shellfish, lumber, hydroelectricity, and paper products.
Politics
Allies
Cities
Greater Misery
Lesser Misery
Fort Sewall (claimed)
Sports
Misery's national sport is crew, but kayaking, sailing, stand-up paddle boarding, and long distance swimming are also very popular on the Islands. The Islands have both a National Sailing Team and a National Crew Team.
Military
Misery Island does not have an organised army, but has 35 militiamen that can be called onto duty at any time. The Islands do have a Navy, consisting of 4 Boston Whaler patrol boats and 7 dinghies used by the coast guard.