Offices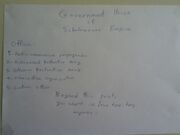 Anti-communism propaganda
Achaemenid Restoration Army
Ottoman Restoration Army
Colonization Organization (It was managed by SRG before, but now it's a part of Government).
Customs Office.
Owner and Place
House of Government is personal Sultan's room in their house, and its owner is His Majesty Sultan Muhammad.
Ad blocker interference detected!
Wikia is a free-to-use site that makes money from advertising. We have a modified experience for viewers using ad blockers

Wikia is not accessible if you've made further modifications. Remove the custom ad blocker rule(s) and the page will load as expected.