PLEASE NOTE,
THIS MICRONATION IS NOW DEFUNCT, OR HAS BEEN MOVED TO ANOTHER PAGE>
The Grand Duchy of Archica is a micronation founded by Bennett Burke on September 4th, 2012. Reasons for the creation of the micronation trace back to the Kingdom of Burke, founded by Grand Duke Bennett when he was a small child. There are currently 9 active citizens in the Nation. It is also a part of the Federated Kingdom (FK).
Royal titles, Noble titles, and Chivarlric titles
Some of the Royal, Noble, and Chivalric titles are listed below:
Grand Duke/Grand Duchess
Duke/Duchess
Prince/Princess
Count/Countess
Viscount/Viscountess
Baron/Baroness
Lord/Lady
Baronet/Baronetess
Knight/Dame
History
Archica started as a childhood project named the Kingdom of Burke, and then, the Forgedom- meaning the leader has the title of Forge/Forgess- of Anuklusmos, which died away. Then Grand Duke Bennett heard about micronation projects. He decided to create one, and he talked with and followed many micronation leaders, such as Sealand, and Molossia. In the end, the result was Archica, which is thriving today. He named his house Castle Archica, the capital city, and has claimed the unclaimed piece of the Norweigian sector in Antarctica.
Military
Grand Duke Bennett has not set up a big miltary yet, as he is still recovering from a war with the Kingdom of Bendicar. (With whom the FK was formed to ensure peace in the future.)
Antarctic Claims
Archica has made claims to Antarctica, and has a small peice of land.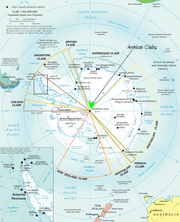 It is shown below, colored in light green.
Ad blocker interference detected!
Wikia is a free-to-use site that makes money from advertising. We have a modified experience for viewers using ad blockers

Wikia is not accessible if you've made further modifications. Remove the custom ad blocker rule(s) and the page will load as expected.