Principality of Greater Princia

---

Motto
"Never looking for war, but always ready for it"

---

Capital city
Waterby
Largest city
Pempire
Official language(s)
English, Welsh
Official religion(s)
Church of England
Short name
Greater Princia
Demonym
Princian
Government
Greater Princian Order
Legislature
Democratic-Monarchy
Established
May 2018
Population
1
Currency
Princian New Drammes (NDR - Đ)
Time zone
British Micronational Time (BMT - UTC+0.75)
National drink
English Breakfast Tea
Internet Domain
.gpr (proposed)

The Principality of Greater Princia, often shorted to Greater Princia is a micronation in the northwest of the United Kingdom that consists of a small part of the beach in West Kirby, England. Most laws are partially based off of the laws of the United Kingdom. The name Princia means the "land of the prince", and comes from the Albanian word, "princi".
Relation(s)
Alliance(s)
Organisation(s)
Formal Relation(s)
Strong Relation(s)
Protesting
The only thing the people can do if the they want things to change, is protest. The number of protesters must be at least 10 people for it to be recognised by the Greater Princian Order, then after the protest has been recognised, a vote will be organised to let other people speak up and have their views heard.
Government
Ministers
Head Ministers
There can only be three Head Ministers, the ones with the highest percentage vote of the Ministers
Ministers
There can only be five Ministers, the ones with the highest percentage vote of the public
Acts of the Greater Princian Order
| Act | Brief Desc. | Date | Proposed by | Passed by |
| --- | --- | --- | --- | --- |
| 2018 Taxation Act | The working class shall not be taxed, any other classes will be taxed in accordance of their wealth and 5% of taxes go to the Ministry of Safety | ? May 2018 | Prince Joshua I | Prince Joshua I |
| 2018 Divisional Act | Greater Princia shall be split into 5 provinces/counties: Waterby, Old Princia, Pempire, Rampoh and Rokkia. Each shall have it's own autonomy government, with Rokkia and Rampoh having a merged government | ? July 2018 | Prince Joshua I | Prince Joshua I |
| 2018 Health Act | Emergency hospital treatment shall be paid for by the government | 15th Nov 2018 | Prince Joshua I | Prince Joshua I |
| 2018 Taxation Act (Amendment) | The working class shall not be taxed, any other classes will be taxed in accordance of their wealth and 10% of taxes go to the Ministry of Safety | 15th Nov 2018 | Governor Alexander I of Stonne | Prince Joshua I |
| 2019 Divisional Act (Amendment) | Greater Princia shall be split into 6 provinces/counties: Waterby, Old Princia, Pempire, Rampoh, Rokkia and Westirral. Each shall have it's own autonomy government, with Rokkia and Rampoh having a merged government | 10th Jan 2019 | Governor Alexander I of Stonne | Prince Joshua I |
Geography
Provinces/Counties
Internal
| Official Name | Alternative Name | Significance |
| --- | --- | --- |
| Waterby | Warterby | Capital |
| Old Princia | N/A | N/A |
| Pempire | Pempire | Largest |
| Rampoh | Rampoe | N/A |
| Rokkia | Rockia | N/A |
| Westirral | Wesprincia | N/A |
| Roovesbridge | Roove's Bridge | PROPOSED |
External
| Province | Colony | Significance |
| --- | --- | --- |
| Stonne Island | Stonne | Capital & Largest |
| Port Stonne | Stonne | |
| Stonne City | Stonne | |
| Princia Island | Stonne | |
Map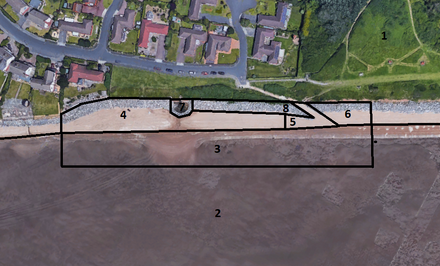 Key:
1 - Thurstaston, UK
2 - British Waters
3 - Princian Waters
4 - Pempire, Greater Princia
5 - Rampoh, Greater Princia
6 - Old Princia, Greater Princia
7 - Waterby, Greater Princia
8 - Rokkia, Greater Princia