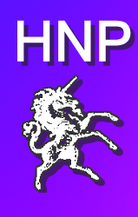 Hamland National Party


Haemland Nadionale Perta
Chairman
king Lewis I
Founded
January 2007
Preceded by
Hamland Underground Micronational Party
Headquarters
New Kirriemuir
Membership
3
Ideology
Social Democracy, Civic Nationalism, Centrism, Hawkish Foreign Policy
International affiliation
None
Official colours
Purple
The Hamland National Party is the largest political party in the Kingdom of Hamland and has been the largest party in parliament for the whole history of Hamland's democracy. It has traditionally been a Social Democratic or Democratic Socialist Party, but in recent years it has moved towards the political center and even adopted some more conservative policies because of it seeing its role as a representative party who looks after the country as a whole rather than the party's interests.




Kingdom of Hamland

Government
King of Hamland, Parliament of Hamland, Prime Minister

Politics
Hamland National Party, Purplism

Regions
Alemania, Alba, Anglia, Hamland,
Taeland, Kydros, Israat, Turaida

Culture
Language, Symbols, Hammish History

Sport
Hamland Football Association, Hamland National Football Team, Hamland National Rugby Team
Ad blocker interference detected!
Wikia is a free-to-use site that makes money from advertising. We have a modified experience for viewers using ad blockers

Wikia is not accessible if you've made further modifications. Remove the custom ad blocker rule(s) and the page will load as expected.