Attention:
This micronation is currently participating in the "Micronations Top Trumps 2009" project.
If you want to join the 2009 Top Trumps, just leave a message in this discussion page.
If you join, your micronation will receive its own special Top Trumps Card, aswell as the chance to become more well-known.
Hountiu islands in Peace
Edit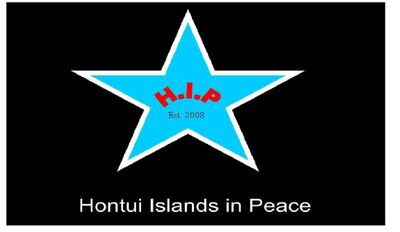 The Hontui islands were founded on 8th November 2008. They are a set of islands located in an imaginery land, near the Pacific Ocean. They include the land of Toz Boz founded by Lord Harry Meek, President Blackburn's Danburnia, Jonnyland created by Jonny Dalby, Tranny Island ruled by Jake Dyble who were founded on 28th November 2008. Stigistan is also an island located next to Danburnia and The Land Of Toz Boz, however the founded King Joe I has fallen out with the rulers of the fellow islands by trying to dominate there land and their movements so all islands baring King Joe's and Trannyland have formed a united union called, 'The Hontui Island's in Peace' (HIP).
Member Micronations
Edit
Geography
Edit
The Hontui Islands are located in the Northern hemispher on Pacific ocean. Danbutnia is the most nothern island followed by The Land of Toz Boz. Look at the map to the right for more information on location.
The Land Of Toz Boz was created by a volcano eruption. The volcano is still located on the island and even though it is still active and could case all of the islands to be destroyed, Scientists find the likely hood of its eruption very unlikely. It is estimated that the next eruption will be after all current human life time.
if you would like to see what news is in Danburnia at the moment click The Danburnian Article.
The Land of Toz Boz's leader is named Harry Meek and his vice is called Daniel Saxby. Jack Urmston Beoumont is the leader of Sport. Leader of
Danburnia was founded by
Daniel Blackburn
on the 8th November 2008. Daniel stumbled across this Hontui island when sailing his small ship the SS.Peace from America to Russia on a jop delivering goods. Danburnia tries to be a safe , peacefull and enviromentally friendly country. Because of this the only transport on the island are bikes, and most homes are built from the trees around them. Danburnia has its own set of 12 laws , called the
Danburnian Commandments
.