Ad blocker interference detected!
Wikia is a free-to-use site that makes money from advertising. We have a modified experience for viewers using ad blockers

Wikia is not accessible if you've made further modifications. Remove the custom ad blocker rule(s) and the page will load as expected.
Hookwood Department
annexation date
February 12, 2010
leader
Tom Turner
land area
~ 8.5 acres
languages
Slin-Englysh
abbreviation
HK
Hookwood Department is the sixth department of the Slinky Empyre.
Landmarks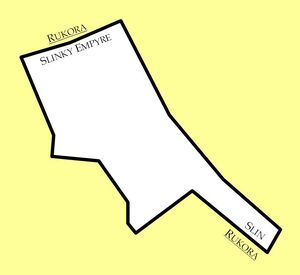 Hookwood Department is bordered on all sides with the Federal Republic of Rukora. The territory includes a large field and receives approximately 36 inches of rain every year.




Slinky Empyre

government
diplomacy, Kyng, Parliament, offices and positions

businesses
education, tourism, treasury, military, post

territory
Saint Rychard Dpt., Herway Dpt., Llabdey Dpt., Tyncomarus Dpt., Hookwood Dpt.,
Amono Dpt., Lookout Dpt., Hayland Dpt., Sarenai Dpt.,
Tergumterra Dpt., Sumac Dpt., Iyabi Dpt., Georgeton Dpt., Haynes Dpt.

culture
language, symbols, Slinky Award of Appreciation, Royal Pryze, Slinky Science Instytute
Micronational Activity Review, Micronational Monthly, Slinky Monthly