House of Mac Donnchadha-Houghton
Country
New Wessex, Austenasia, Wilcsland, Orly, Chiefdom of the Sun, South Bank, Atlantis, Saqqara, Thebes, Taklamacan, Moylurg, Corran, Copan, Etarnia, Midget Nation-in-Exile, Ctoria, Domanglia, Havnesgade-Amager, Burkland, Erauqs
Titles
Emperor of Austenasia
Kaiser of Ctoria
King of New Wessex
King of Wilcsland
King of Orly
King of Rushymia
King of Thebes
King of Southern Burkland
King of Erauqs
Midget Master
Great Chieften
Chieften of the Sun
Doge of Amager
Emperor of Deleckshum
Emperor of Moylurg
Tsar of Orly
King of South Bank
King of Atlantis
King of Saqqara
King of the Taklamacan
King of Moylurg
King of Corran
King of Copan
King of Etarnia
King of Domanglia
Current head
Declan I, II & V
Ethnicity
Irish/Anglo-Saxon

The House of Mac Donnchadha-Houghton (known as the House of MacDonagh before 23 January 2012) is the current ruling house of the Empire of Austenasia and United Kingdom of New Wessex, as well as the former ruling house of Saqqara, Atantis, the Taklamacan, Etarnia, and South Bank.
Royal house
The House of MacDonagh is seated in the ancient town of Wilton. It gained the status of a royal house when Declan I created the Kingdom of South Bank in 2002. Also known by its Irish name of MacDonnchadha, this house had the name Houghton affixed to it on 23 January 2012 by Declan I, II & V, creating the House of MacDonnchadha-Houghton as the ruling house of the Wessaxon Monarchy. It is thought that the House may be descended from Kings of England, Ireland, Wales, Scotland and Germany, and possibly Holy Roman Emperors.
Today the monarchy is stable but not so long ago it was anything but. The House of MacDonnchadha-Houghton has remained in power though civil wars and pretenders claiming the crown. None of the people of New Wessex have ever expressed a desire to become a republic.
Main members
Minor titles
Lord of the Land: May - June 2009, 2 January 2011 -
Prince Companion of the Austenasian Heir to the Throne: 7 June - 30 December 2010
Theocrat of Atkantia: 16 December 2010 -
Duke of South Bank: 2011 -
Sovereign Autocratic Lord of Wilcsland: 2011 -
Count of Borken: 5 June 2011 -
Lord of the Two Lands: 26 July 2011 -
Prince of Copan: 14 January 2012 -
Prince in Von Stergel: 24 April 2012 -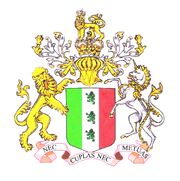 Ad blocker interference detected!
Wikia is a free-to-use site that makes money from advertising. We have a modified experience for viewers using ad blockers

Wikia is not accessible if you've made further modifications. Remove the custom ad blocker rule(s) and the page will load as expected.