The Independent Republic of United Gvetcherlind was founded on February 29, 2012 after the dissolution of the Theology of United Goldfishia due to the lack of unity under the theology of Goldfishianism.
Religions:
Goldfishian, Chjerdu, Hinduism, Islam, Judaism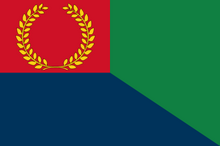 Official Languages:
Gvengelsk, Norwegian, English (Pending)
Etymology
The name Gvetcherlind is derived from the Old High-Goldfishian word for Gift of the Golden Fish (Gvetr meaning Golden, Cherz meaning Fish, and Lindak meaning Gift although it eventually came to mean Homeland) in respect and honor of the Gvetchians' rich history.
History
On February 29, 1012, the Independent Republic of United Gvetcherlind was founded by Everett Penne (Currently serving President), Matthew Gerg (Head of Parliament), and Christopher Nesja (First-Court Justice'). All three were original signers of the Causerie of Temporary Semi-Autrocracy, an enacted form of government to expire in late 2015, planned to be replaced by a more permanent constitution.
Government & Politics
The current governing body is a form of autocracy referred to by the Gvetchians as a semi-autocracy, allowing the rule of more than one as approved by the serving president. This arose from the anarchy which ensued following the dissolution of Goldfishia.
Law & Order
Gvetcherlind has a jury-based judicial system that is not unlike that of the United States of America. It is watched over and maintained by the First-Court Justice.
The Armed Forces of Gvetcherlind is largely a collection of militias commanded by the small Parliament of Gvetcherlind.
Foreign Relations
Gvetcherlind has remained out of contact with all but one other  Micronation, the People's Theocracy of Goldfishia, a small fragment left-over from Goldfishia who wished to remain a Goldfishian Theocracy.
Further contact with other micronations is anticipated.
Geography & Climate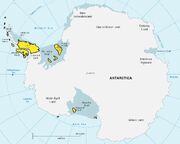 ((INSERT TEMPERATURE, WEATHER, TERRAIN, LOCATION AND OTHER RELATED INFO HERE))
Economy
There is work to circulate the Gvetchern Krone, but likely not in the near future.
[Culture]
See also
((INSERT A FEW PAGES RELATED TO THIS PAGE HERE))
External Links
((FAIRLY SELF-EXPLANATORY))