The Independet State of Lasavia (Nъezavisla Država Lasavska) declared independence on the 16th December 2012.
(Lasavian)Nъezavisla Država Lasavska 16th December 2012 2012-27th December 2012 Independent state of Lasavia

Flag

Coat of Arms

Capital
Lasavski Brod
Official languages
Lasavian
Denonym
Lasavian
Government
Republic
Leaders
President: A.V. Posavinović
Founded
26th December 2012
Location
Iryllia
Population
5
Currency
€ (Euro)
Government
President:A.V. Posavinović
Minister of Economy: J. Hučar
Minister of Diplomacy: Z. Tvrtković
Minister of war" L. Ivanović
History
Independence was declared on the 16th December 2012.
2nd Lasavian war
The second Lasavian War began on the 20th December, when Narentian Military occupied the northern part of the country.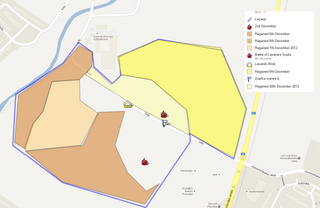 It continued on the 22nd December when the whole Narentian army attacked. The Battle of Lasavski Brod was the largest battle of the whole 2012. However the Lasavians remained quite independent and negotiations began. The Lasavians were admitted to
Narentia
as one of its
Federal subjects of Narentia
Narentia Topics
Existing nations
Extinct nations

Narentia,

Republic of Prednádražie,

Despotate of Mysdobrey Nadeye,

Gishabrun,
Slevania,
Srnieckia,
Itoriak republic

Vartakia

Izkania,

Iztaria,

Republic of Velka Lipa i Snovina,
Seperatist groups
Seperatist groups no longer active

Cherrycream plot,

Workers´ Soviet Republic

Republic of Srnska Krajina

Orthodox Kingdom of Narentia

Lasvar Republic

Hetmanate of Krapina,

National State of Narentia

Republic of Iztarska,

Independent State of Lasavia,

Iryllian Armed Rebellion,

Slobodarsko-Jablonječka Republic

Prizrenija Republic

Izornia rebels

Izba-Ursanistan,

Izbiak National State,

Republika Slovenska Tarica
Ad blocker interference detected!
Wikia is a free-to-use site that makes money from advertising. We have a modified experience for viewers using ad blockers

Wikia is not accessible if you've made further modifications. Remove the custom ad blocker rule(s) and the page will load as expected.