This article is poor quality and as a result has been marked for improvement. Please discuss possible changes on the article's talk page.
Reason: No reason has been given, please provide a reason or this template will be removed.
After ending the Persian Empire, Alexander the Great tried to rule the area through one of his military commanders. But Ariarathes, a Persian aristocrat, somehow became king of the Cappadocians. As Ariarathes I (332–322 BC), he was a successful ruler, and he extended the borders of the Cappadocian Kingdom as far as to the Black Sea. The kingdom of Cappadocia lived in peace until the death of Alexander. The previous empire was then divided into many parts, and Cappadocia fell to Eumenes. His claims were made good in 322 BC by the regent Perdiccas, who crucified Ariarathes; but in the dissensions which brought about Eumenes's death, Ariarathes II, the adopted son of Ariarathes I, recovered his inheritance and left it to a line of successors, who mostly bore the name of the founder of the dynasty.
Under Ariarathes IV, Cappadocia came into relations with Rome, first as a foe espousing the cause of Antiochus the Great, then as an ally against Perseus of Macedon. The kings henceforward threw in their lot with the Republic as against the Seleucids, to whom they had been from time to time tributary. Ariarathes V marched with the Roman proconsul Publius Licinius Crassus Dives Mucianus against Aristonicus, a claimant to the throne of Pergamon, and their forces were annihilated (130 BC). The imbroglio which followed his death ultimately led to interference by the rising power of Pontus and the intrigues and wars which ended in the failure of the dynasty.
It was founded by I. Ariarates. (B.C. 332) In the 280 years it was destroyed by Galatia. It was re-established in 2015 and is a kingdom dependent on Turkey.
Map of Cappadocia
Edit
Old map (322);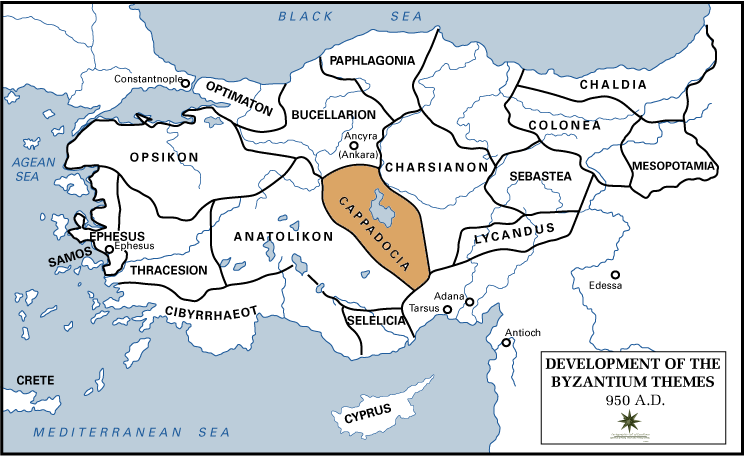 New map (2015);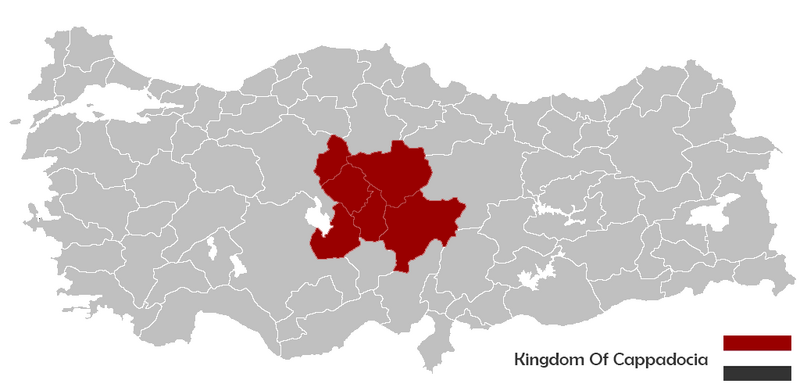 Ad blocker interference detected!
Wikia is a free-to-use site that makes money from advertising. We have a modified experience for viewers using ad blockers

Wikia is not accessible if you've made further modifications. Remove the custom ad blocker rule(s) and the page will load as expected.