Kingdom of Jinjery
Motto: Tangva pour zatangva (Born to Die)
Location: Caucasus
Capital: Bonderhall
Area claimed: 1,783,562 Km2
Membership: CLLP Micronations
Date of foundation: September 9, 2002
King: Luke the Lucky IX
Language: Jinhjerian, Esperanto, English
Currency: JJE (Jinjerian Eng
Brief Introduction
Jinjery is a micronation located in the Caucasus area. It has recently reached its golden age. Due to this, its economy and population has noticeably grown.
History
Jinjery was first founded as an independent country on the September 9th, 2002. Jinjery had many fails in a growth of economy and population. Finally, Jinjerian parliament decided to change the government from country to a Kingdom.
Jinjery joined the group of CLLP Micronations Union on the November 24th, 2014. Jinjery reached its golden age in 2015.
Government
As already mentioned, Jinjery was first an independent country. Afterwards, It was reconverted to an Independent Kingdom. Jinjery's government consists of the following: King, Parliament, Court and Statiment.
Jinjery's king is Luke the Lucky IX. He has ability to control every government structure except, Court. Court can remove king from its place.
Parliament is half controlled by King, half controlled by Court. Parliament makes decisions mostly about economical and financial affairs. After their decision, king can choose which actions to verify and which not.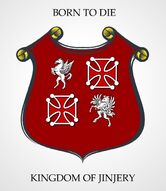 Jinjery is devided into nine states: Bonderhall (Capital), Enghall, Tanhall, Easthall, Westhall, Northall, Southall, Inthall and Earhall. Every state has its Statiment, which controls everything ongoing in their state. Statiments are fully controlled by a King.
New king is chosen by the following actions. People vote for the candidates. Court chooses "Triomo" (Three Golds) - three kings from the peoples' votes and afterwards, fight is held. Only one stays alive and only one is chosen as a king. This action happens once in 9 years.
Diplomatic Relations
King of Jinjery, Luke the Lucky IX does not recognize Abkhazia and South Ossetia as Independent countries/states. Kingdom of Jinjery and Principality of Wilhelmsburg are now Establishing diplomatic relationships.
Ad blocker interference detected!
Wikia is a free-to-use site that makes money from advertising. We have a modified experience for viewers using ad blockers

Wikia is not accessible if you've made further modifications. Remove the custom ad blocker rule(s) and the page will load as expected.