The Kingdom of Kemet is a Kemetic Government-in-exile micronation based around the world.
Of the most "solid" claims, it claims soveriegnity over Bir Tawil and the boundaries of Egypt in North Africa. The Church of Isis is the main religious denomination of the kingdom. It has international affiliation to the Dharmic International Political Authority.
Etymology
Edit
Kemet is name of Egypt in the Classical and Ancient Egyptian language.
Founded by the "White King" Vidhur Aryavarta in 2012 due to having a "compelling want to do so", claiming it was the will the gods, as chronicled in the
Papyrus of Founding
.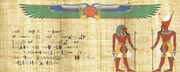 Government
Edit
High Priest: Samrath Harshvardhan Singh Rawlot
Pharaoh: Trace Fleeman
Advisers: Various.
the Kingdom of Kemet claims the shrines of registered citizens (and the rest of the occupied territory, e.g. a house) as soverign territory.