The country of Kolgrath was founded on December 18th, 2013.
Etymology
I was fooling around and typed up this name,I thought it was cool.
History
There was a civil war in the Scotch Republic,and out of the conflict,two new nations emerged,the Glenn-James Republic and Kolgrath.after the civil war,the Scotch Republic fell.
Government & Politics
We are a constitutional monarchy.
Law & Order
If you're guilty,there is a certain torture method we use.It is listening to Justin Bieber's "Baby" a hundred times without stopping.
Foreign Relations
We are allies with a few micronations.The Glenn-James Republic is out closest ally.
Militia
I have a militia,but it's not very big.We wage war with whatever we can find,mostly water balloons. 
Geography & Climate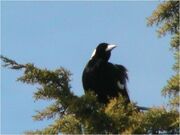 It is very dry in Kolgrath. The rainfall averages about 12.1 inches annually.
Economy
We are currently working on it.
Culture
We are mostly Buddhist dominated,yet there are other cultures that live in Kolgrath.
Media
{{INSERT INFORMATION ABOUT THE PRESS, TELEVISION, ETC.))
See also
((INSERT A FEW PAGES RELATED TO THIS PAGE HERE))
External Links
((FAIRLY SELF-EXPLANATORY))