Langit-1 (Tagalog for "sky") is the first orbital flight of San Andreas Space Exploration Agency's Langit program. Langit-1 launched on June 23, 2012, at 20:48 SAST, and landed on June 23, 2012 at 23:28 SAST, having orbited the Earth 4 times during the 2.5 hours mission. The Langit-1 was a test for the capabilities of the Langit spacecraft, which would make the People's State of San Andreas being capable of sending a manned mission into space.
Mission statistics
Mission name: Langit-1
Crew size: 0
Launch pad: PNA Launch Pad, Unorganized Territory, PR of Albion
Launch date: June 23, 2012, 20:48 SAST
Landing: June 23, 2012, 23:28 SAST
Mission duration: 2 hours, 29 minutes
Number of orbits: 4
Initial apogee: 367.2 km.
Final apogee: 164.7 km
Initial perigee: 161.9 km.
Final perigee: 162.9 km.
Orbital period: 45 min.
Distance traveled: 17498.1 km.

Mission summary
Mission background
After the success of the Liwanag satellite, the San Andreas Space Exploration Agency focused their attention on the Langit program, which aimed to send man into space.
Langit spacecraft
The Langit spacecraft is a spacecraft series developed by the SASEA for the Langit program. The layout of the spacecraft was based on the Russian Soyuz spacecraft, with the notable feature of having the descent module being in the front side of the spacecraft. The Langit spacecraft consists of the following parts: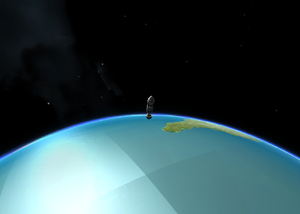 A small aerodynamic descent module, which returns the crew to Earth;
An orbital module, which accomodates the crew during the mission;
A service module, which accomodates the supplies, instruments, and the spacecraft's engines.
The spacecraft is inserted to orbit by the Lawin-3 rocket.
Lawin-3 rocket
The Lawin-3 rocket is the 4th rocket developed by the SASEA. The rocket is primarily used for the Langit program missions. The Lawin-3 rocket's design was based on the Sergei Korolev's design, which were used on the R-7 Semyorka, Vostok and Soyuz rocket families.
The Lawin-3 is a two-stage expendable launch system.
Mission highlights
Note: All times are in San Andreas Standard Time
20:48 - Langit-1 is launched from the PNA Launch Pad
20:59 - Langit-1 reaches orbit
21:45 - Orbital maneuvers for Langit-1 began
21:46 - Orbital maneuvers ends which makes Langit-1 more circular
23:03 - Retroburn began, and preparations for de-orbit begins
23:04 - Retroburn ends, return module detaches from the rest of the spacecraft
23:28 - Langit-1 splashes down safely

Technologies demonstrated
New launch system
Orbital manuevering
Retroburn
Reactions
People's State of San Andreas: President Migs Caldeo congratulated the SASEA on the successful mission. SASEA also announced that more Langit missions are to be done, as well as Liwanag missions.
Links