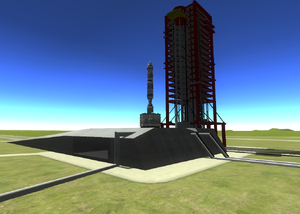 The
Lawin-1
(English: Hawk-1) is an experimental rocket launched by the
People's State of San Andreas
, which was successfully launched on May 15, 2012 at 9:34 GMT.
Etymology
Lawin is the Filipino for hawk. The name was given by His Excellency, Migs Caldeo, president of the People's State of San Andreas.
Background
The People's National Army, the armed forces of the People's State of San Andreas, planned to create a rocket system, as part of a space exploration program.
On May 14, the experimental rocket was assembled and rolled out to the launch pad.
The rocket
The Lawin-1 is a multi-stage rocket. It is capable of carrying a payload. The first stage consisted of six clustered rocket boosters. The second stage consisted of a single rocket. The third stage consist of a rocket booster that contains more fuel than the first two stages. The fourth and final stage consists of a rocket booster that sends the load at the altitude of 70 kms.
Launch
Lawin-1 was launched at a launch pad owned by the People's National Army on May 15, 2012 at 9:34 GMT. The first stage reached an altitude of 3 km, the second stage at 5 km, the third stage at 20 km, and the fourth stage at 30 km. All of the stages were successfully separated from the rocket. The load continued to gain altitude, reaching a maximum height of 70 km. The load then began to return back to the ground, and landed successfully, but with minimal damage. The mission lasted for 5 minutes.
Mission photos
Reactions
- People's State of San Andreas - The President of the People's State of San Andreas released a message through the state-owned news agency saying that the rocket launch "demonstrates the technological prowess of the nation." On May 16, 2012, they announced that a second rocket, Lawin-2, is to be launched between May 17 - May 19. On May 17, at 3:05 GMT, Lawin-2 was successfully launched.
Lurk Federation - The Prime Minister of Lurk Federation congratulates on the sucess of the mission. This mission was very similiar to Aerian I. and Aerian II. rockets. The Prime Minister also hopes for possible future cooperation between those two space agencies.