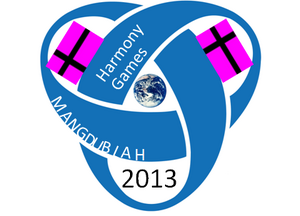 Mangdublah
became the ninth micronation to submit a bid to host the 1st Harmony Games, and began the bidding process on the 1st December.
It is proposed to take place between the 1st of July and the 24th of July, although these dates are subject to change.

Bid Motto- With age comes wisdom*
(Reference to Mandublah being one of the oldest host bid countries.)
Reasons to Win the Bid
Mangdublah has had a high sports ethos since it was founded over a year ago.
Also it has several spacious and large sports venues nearby available to book for any sports necessary, ranging from an internet cafe to host solitaire that houses 20 people, to a huge 764 seat stadium complete with a field, running track, reception, changing rooms and more!
Proposed Sports
Virtual:
Football (Fifa 13 PC version)
Solitaire
Chess
Call Of Duty- Modern Warfare 2
Physical:
Danball
Football (Association)
Baseball
Ghost-Ball
Proposed Stadia (If necessary)