Ad blocker interference detected!
Wikia is a free-to-use site that makes money from advertising. We have a modified experience for viewers using ad blockers

Wikia is not accessible if you've made further modifications. Remove the custom ad blocker rule(s) and the page will load as expected.
Massasoit, officially the Union of Massasoit is a self-proclaimed micronation that was founded in October of 2014 by Carlton Baton Jr.
Etymology
The term Massasoit comes from the name of the chief of the Wampanoag tribe of the  Plymouth Colony. This term was first coined by Rodger and was adopted as the country's name.
History
The Republic was declared an independent sovereign nation in 2012 by Rodger and Jane Sysop, in response to a dispute with the Government of the United Kingdom over what the Sysop family called the "draconian leadership of Prime Minister, David Cameron".[1] The Sysops claimed their house as part of Example.
Government & Politics
((INSERT INFORMATION ABOUT YOUR GOVERNMENT TYPE, MINISTRIES, HOW THE LEGISLATURE [or parliament] RUNS, ETC.))
Law & Order
((INSERT INFORMATION ABOUT JUDICIAL SYSTEM, POLICE, ETC.))
Foreign Relations
((INSERT INFORMATION ABOUT THE RELATIONS THAT YOUR MICRONATION HAS WITH OTHER MICRONATIONS))
Military
((INSERT INFORMATION ABOUT THE STRUCTURE OF THE MILITARY, DIFFERENT BRANCHES, WEAPONRY, CONFLICTS INVOLVED IN, ETC.))
Geography & Climate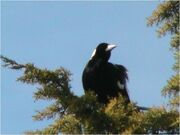 ((INSERT TEMPERATURE, WEATHER, TERRAIN, LOCATION AND OTHER RELATED INFO HERE))
Economy
((INSERT FISCAL INFORMATION, LIKE EXPORTS, IMPORTS, INDUSTRIES, ETC.))
Culture
((INSERT INFORMATION ABOUT THE CUSTOMS, EDUCATION, LANGUAGE(S), THE ARTS, ETC.))
Media
{{INSERT INFORMATION ABOUT THE PRESS, TELEVISION, ETC.))
External Links
References