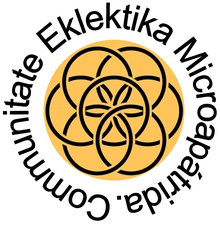 Eclectic Community Micro-stateless
RECORDS
Nome ecléctico Comunitário Microstateless; lnitials ECM
In Portugese: Comunidade Eclética  Microapátrida (CEM)
In Interlingua: Communitate Eclectic Microapatride
In Esperanto: Komunumo Eklektika  Mikrominoritatoj
Gentile  SMF microstateless;  Aka  cemita.
Fundation  June 28, 2015 (Gregorian calendar)
Regular calendar Prime-die, Septime 01, 405 do Anthropocenic Epoch.
Standard Time UTC (Coordinated Universal Time)
Not system of government,only representantives.
Economic Philosophy  Distributism  (not related to CD)
Local Currency (signification) departir (first currency in Braille on microworld)
Organizations Expedicionary Front e Order Tent (in Portugese)
Ideology adopted  Micro  (PT)  anarcopacifismo  (no obligatory) and Global Citizenship
Official Language  Interlingua-IALA,  Portugese  (in fact) e Esperanto.
English and others lenguages are considerated  lingua franca.
Official Sport  Le Parkour
Not religion; Telurism is Philosophy.
Informative  "Acontecemitas" e Micronotas.
Virtual territorial representation Camps
Poject
The project was created by Joal, brasilian micronationalist, it is destined to newcomers to the microworld that are not yet part of a micronation.
Flag of CEM was maked inspirated in the Flag of Planet Earth created by Oskar Pernefeldt .
Cemitas (of CEM) enjoy a rural life, are farmers, craftsmen, creators (feed on milk, eggs and honey) and fishermen, as well as scholars from various sciences and holders of various skills.
Their camps and houses have strict rules of sanitation that respect nature and groundwater.
They have so much to learn and share with micronations who receive them in their territories, the desire to live in harmony and prosper together.
The members of CEM are free to adopt a nationality and leave the community and are welcome to the community (ex) micronationalists who withdrew from their lands and are in transit to another if they so wish.
In short, the project provides rich experiences in micronationalism, make friends and aims population increased microworld on existing micronations.
CEM would be for the microworld that the Roma is a community for the macro world, but do not share the same origin.
Principles, rights and duties
PRINCIPLES
NON-VIOLENCE: it rejects any use of terrorism and / or espionage within micronations;
SELF-DETERMINATION: community members agree that people and micronations have an equal right to self-government;
SOVEREIGNTY: the members of CEM not pleiteam political office in micronations in which they reside;
ENVIRONMENTALISM: it respect for the environment is fundamental among members;
HUMAN RIGHTS: it accepts the following treaties and declarations that protect human rights;
COLLABORATION: the quality of life and well-being of the people of micronations;
INTEGRATION: dignified and cordial relationship with MicroWorld nations.
RIGHTS
ALIMENTATION: for community members are guaranteed access to land for farming or animal husbandry as well as the rivers and seas of the region reside;
HABITATION: all cemitas is garantio shelter in tents and / or wooden buildings and / or masonry with wellness amenities needed;
BELIEF: each cemita has the right to profess one faith and does not represent the beliefs of the people as a whole;
STUDY: all cemita has the right to study and receive instruction in preparatory schools and / or apply for admission to the micronations of teaching networks in which they reside;
ACTIVITIES: cemita everyone is free to engage in any activity that you want to be as a farmer, weaver, artisan, fisherman, builder, designer, trainer, consultant, among others;
NATIONALITY: all cemitas are free to adopt the nationality of the micronation who were born and / or residing, if they wish, cease to form part and be recognized as microapátridas;
SPOUSES: cemita each have the right to choose to mate and raise a family with a person of the opposite sex or not and whether it also cemita or belonging to a micronation.
DUTIES
RESPECT: it is the duty of all cemitas respect men and women, regardless of age, activity, belief and / or spouse;
HEALTH: it is the duty of each cemita preserve the health of the body, mind and / or spirit, avoid the hype of the beverage, food, games and erotic-sexual stimuli.
Tradução:  Google
Ad blocker interference detected!
Wikia is a free-to-use site that makes money from advertising. We have a modified experience for viewers using ad blockers

Wikia is not accessible if you've made further modifications. Remove the custom ad blocker rule(s) and the page will load as expected.