Ad blocker interference detected!
Wikia is a free-to-use site that makes money from advertising. We have a modified experience for viewers using ad blockers

Wikia is not accessible if you've made further modifications. Remove the custom ad blocker rule(s) and the page will load as expected.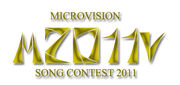 The Microvision Song Contest is an intermicronational song contest, held by analogy with the Eurovision Song Contest. It was first held in 2011 with two versions, before being recently revived by Hasanistan in 2012.
Background
The contest has varied depending on the year.
Chronology
2011 - Lostisland and Mnoer Empire
2013 - Hasanistan, Mangdublah and Dalton
2014- TBA (winner of 2013 contest)
Contacts
Official website of the 2011 Microvision Song Contest (English and Russian)
English version of the Official website of the 2011 Microvision Song Contest
E-mail of the Organizing Committee of the Contest - microvision@republicoflostisland.com