Ad blocker interference detected!
Wikia is a free-to-use site that makes money from advertising. We have a modified experience for viewers using ad blockers

Wikia is not accessible if you've made further modifications. Remove the custom ad blocker rule(s) and the page will load as expected.
The Narentian Dinar (NAD) is the official currency in the Narentian Federation
History
Until the 26th November 2012, the Slevanski Dinar (SFD) is sometimes used, but Euro remains the most common currency.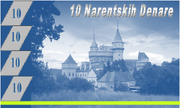 Since then, the new constitution declared that the Narentski Dinar is to be the official currency. On the 22nd July 2013, the first NAD bank note was designed
Banknotes
| Image | Value | Dimension | Main color | Description | Date of design |
| --- | --- | --- | --- | --- | --- |
| | 10NAD | 1000*600 | blue | Bojnjice castle | 22nd July 2013 |
| | 20NAD | 1000*600 | green | Višegrad mountain | 23rd July 2013 |
| | 50NAD | 1000*600 | pink-purple | Holy Trinity Church ,Slobodarevo | 23rd July 2013 |
| | 100NAD | 1200*750 | orange | Arba Old Town | 24th July 2013 |
| | 200NAD | 1200*750 | blue | Promajna | 24th July 2013 |
| | 500NAD | 1200*750 | sepium | St. Jure Fort in Vis | 12th August 2013 |
| | 1000NAD | 1500*850 | yellow | Scenery in Jezerna Province | 12th august 2013 |
Narentia Topics