The Protectorate of the National Embassy to the California Republic, sometimes internally referred to simply as the National Embassy, is the embassy which represents the Provisional Territories of the F.A.R.T. in the California Republic. Although technically not a state of the F.A.R.T., its classification as a protectorate designates it as a state, which it is usually considered to be.
Recognition
Edit
Although the F.A.R.T. does not recognize the United States, it does recognize California as a sovereign entity, and thus formed this embassy. Notwithstanding, the Californian government has not delegated an ambassador to the F.A.R.T., which may explain, at least in part, the lack of formal diplomacy between the two countries.
The Protectorate of the National Embassy to the California Republic was established on 11 January 2015.
Minister of Peace
Edit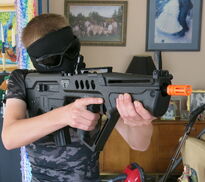 Minister of Peace
is a title given to the ambassador in any embassy operated by the F.A.R.T.
The embassy is singularly staffed and permanently populated by Minister of Peace Ivan Kozick, who is also Minister of War and Minister of Justice on behalf of the Armed Forces of the Central Government.
The National Motto (Gesundheit!) is a parody or perhaps even a response to Eureka, the motto of California.
Ad blocker interference detected!
Wikia is a free-to-use site that makes money from advertising. We have a modified experience for viewers using ad blockers

Wikia is not accessible if you've made further modifications. Remove the custom ad blocker rule(s) and the page will load as expected.