Within the Narentian Federation, there are areas with preserved national beauty.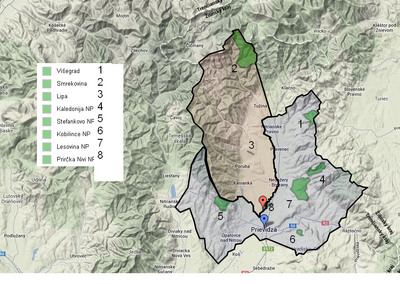 History
The first national parks were created on the 3rd November 2012
Smrekovina
Lipa
Višegrad
Kaledonija
Śtefankovo
Kobilince
Lesovina
Prirečke nivi
All of these were found within the Poplavina republic.
Smrekovina National Park
The Smrekovina National park is found in the northern part of the
Lasvar Republic
. It is found in the Homuoljka mountains and is densely forested.
Lipa National Park
The Lipa National Park is also found in the Lasvar Republic and consists of a small forest in a river valley.
Višegrad National Park
Is found in northeastern Narentian Republic and is a very interesting site. Evidences of an ancient fortress have been found there.
Kaledonija National Park
The Kaledonija National Park is found in the Žijar mountains and consists of a quiet forested  valley. The region was a popular hiking destination for Narentian citizens.
Śtefankovo National Park
Stefankovo is found in western Narentian Republic above the famous city of Bojnjice.
Kobilince National Park
The Kobilince region was declared as a protected area by the Slovak government due to geological interesting formations. It lies in southeastern Narentian Republic.
Lesovina National Park
The Lesovina NP was created on 3rd November 2012, but has been enlarged in August 2013. It consists of a relatively large wooded area.
Prirečke Nivi National Park
Found on the border of the Lasvar Republic and the Narentian Republic, this national park suffered from the  Narentian Civil War. It protects the precious river forests around the Nitra river.
Narentia Topics