| | |
| --- | --- |
| | This article refers to a nation which is defunct and no longer exists. You can help make the article reflect that or ask on the talk page for further information. |
The New Republic of Bodonia  was a micronation located in North America, with enclaves located in Korea.
History
On November 17th 2013, Enoch Chung founded Bodonia. He had previously created Miniwadiya in August that year, but the page was deleted due to inactivity. It was at first an online micronation but eventually acquired real land. Shortly after its creation, Bodonia went through a civil war that divided Bodonia into East and West. The war ended on November 20th and Bodonia was united again. According to Enoch Chung, Bodonia declared war on Korea that day. During its existence, Bodonia was a member of the Grand Micronational Alliance before it dropped out, and also declared war on Taipan, although the war was never recognized by either country. On December 20th 2013, Bodonia entered inactivity. It was revived on January 1st 2014, when an official currency was made, the Bodonian dollar. However, this revival was short lived, as on January 18 2014 Enoch Chung declared Bodonia officially defunct due to inactive citizens. The successor state, the Kingdom of Korea was made on January 21st.
Foreign affairs
Recognized
Allies
Enemies
Military
The Bodonian Army was formed on December 20th 2013 having previously been a Royal guard, but was disbanded during the same day due to Bodonia entering inactivity. It did have a militia with 4 people, small navy and an air force. They were first led by Issac Chung, but Trevor Hill became the new head later on.
Territory
Bodonia claimed all of the houses in Enoch Chung's cul-de-sac and a few enclaves in Korea, specifically the islands surrounding Jeju. It later expanded to include lakes and woods in the area, and even a non-serious claim on Mars.
Culture
Bodonian culture was a diverse mix of Japanese, Chinese and Korean culture.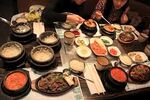 Sun doo boo and Tofu soup in Korea were popular Bodonian cuisine. Everyday meals included Kimchi and rice. On special occasions Thai food and sushi were eaten. In Bodonia bowing was a custom and showed respect and honor.
Gallery