This article is poor quality and as a result has been marked for improvement. Please discuss possible changes on the article's talk page.
Reason: No reason has been given, please provide a reason or this template will be removed.
Niclogia, officially the Royal State of Niclogia,[5] was a micronation situated partly in the Fennoscandian region of Northern Europe, partly in the Iberian region of Southern Europe and somewhere between Egypt and Sudan. It is bordered by Finland in Jyväskylä claim called Grain, Spain in Niclogias Gibraltar claim and by Egypt and Sudan in its Nicol claim.
It used to be part of Niclogian Synomos and after that part of Nyclos, but it was disfounded in 2013.
Niclogia was founded on 2010 as a Monarchy but it  dissolved at the beginning of 2011, and then it was re-established on 27th May 2012 as Republic, and eventually it Became Royal Federal Republic, later on it transformed into Royal State of Niclogia.
An estimated approx 500 people live in Niclogia,but only 21 of the territorial citizens are registered. Politically it is a Dictatorial Republic, with the Royal President living in Fors, with the Royal Family.
Niclogia's experience of War on Taxes involved only Poltical support to Noliga to help to end the war. Niclogia has been giving political support also in MPG, whe there was a civil war in Mouzilo.
Following the end of the civil war, President Nico Fors proposed Manu to give the dcisionpower of laws to the citizens, if the Parliament dosnt work, and Manu eventually gave the power to the people cause of the help from Niclogia.
Etymology

Edit
 The name Niclogia comes from the name of the founder and the 1st President Nico, and from greek word logos.
 Monarchic Republic of Niclogia was founded on 2010
Monarchic Republic of Niclogia dissolved on 2011
Republic of Niclogia was established on 

27th May 2012

In September 2012
President of Niclogia created a social media of its own named Social Niclogia, and claimed it as a part of Niclogia.
Niclogia accepted Micros.
Niclogia Unclaimed Helsinki.
Niclogia Claimed

Hans Island
Sothern Queen Maud Land
Marie Byrd Land
Nordaustlandet

Niclogia joined in to Micronations United Association.
Niclogia divided for 2 different nations, Arkto Imperio & Niclogia 
Arkto Imperio & Niclogia created Commonwealth of Niclogia.

October, 7th 2012 Nico Fors founded the World Union.

In  September 17th Niclogia transformed into Federal Republic
In January 4th, 2013, Niclogia became Royal Federal Republic
In January 30th of 2013, Niclogia took InterSols in use as currency.
Government and politics
Edit
The constitution

Edit
0.Motto
Respect Love
Respect Peace
Respect Equality
1.Be Respectful 
Respect others and their Privacy
Respect nature in everyway
2.Be Good
Dont kill anyone
Dont steal anything
Dont rape anyone
Dont do anything against human rights
3.Be Loyal
Dont cheat your partner in official relationship
Dont betrate your friends or family
Dont betrate your nation
4.Be original
Dont steal anyones creation, and claim it as yours
5.Be friendly
Do not attack anyone in a personal level
Do not beat up anyone or act violent in any form
6.Be Rightful
Do not treat anyone in the way you dont want they treat yourself
7.Be Free
You have artistic freedom to express yourself
You have freedom of Religion
You have freedom to express your sexual orientation.
You are free to do anything & everything that respects the Constitution and the Laws of Federal Republic of Niclogia!
Foreign relations
Edit
International Organizations
Edit
Niclogia is member of:
Micronations United Association
Diplomatic Relations
Edit
 Imvrassia
Templar Kingdom
Aerican Empire
Niclogia Regornizes
Edit
All the Members of World Union, Iberian Union, Bir Tawil Union, MUA, and all of its Allies and Nations wich have Diplomatic Relations with it.
Niclogia also regornizes only Provinces of Macronations
and lots of Micronations.
Other regornized areas
Edit
Catalunya (has the right to selfdetermination)
French Guyana (consept of colony is obsolete)
Gitania Republic (has the right to selfdetermination)
Hawaii (ilegally invaded by the USA)
Kosovo (91 UN states recognise the independence of Kosovo)
Kurdistan (has the right to selfdetermination)
Palestine (West Bank & Gaza / ilegally invaded by Israel)
Spanish Sahara (ilegally invaded by Marocco)
the third Spanish Republic
Taiwan (has the right to selfdetermination)
Tibet (ilegally invaded by China)
Åland Islands
Karelia
Lapland (Areas, wich are not included in Sami area)
Ladonia
Aerica
Sealand
Sami (Blue in the Map)
Denmark (Red in the Map)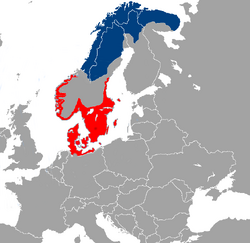 Military of Niclogia is formed from the Guard and Police forces.
It is similar to the Military of Stream, cause Stream is also part of Niclogia.
Police
Police of Niclogia is formed from all 18-40 year old male citizens.
Guard of Niclogia is formed from all over 18-40 year old female citizens.
Niclogia usez one main newspaper, the Nyclonese Nations.
Television
Edit
Niclogia has 2 official Television sations.
And they are
External links
Edit

Ad blocker interference detected!
Wikia is a free-to-use site that makes money from advertising. We have a modified experience for viewers using ad blockers

Wikia is not accessible if you've made further modifications. Remove the custom ad blocker rule(s) and the page will load as expected.