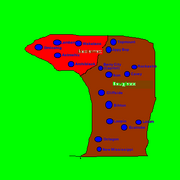 Noelamac and Douglass are Providences in Nosdivad. Both Were Achieved on January 25, 2011.
Noelama
Noelamac is Chameleon Way in San Francisco. It contains several Stuft Towns in Several Houses. It overlooks Douglass Park/Providence.
Douglass
Douglass is every bit of Douglass park not included in Noelamac. Douglass contains many Hidden Stuft Towns and a Children's Playground.