PADDLE POP KINGDOM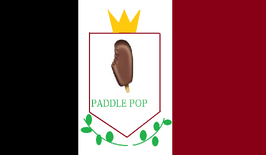 Official Name:Paddle Pop Kingdom
Capital:Paddle Pop City
Population:17
Area:1 km2
Government:King:Joni I
Prime Minister:Wido
GDP:Total:US$700.000
Per Capita:US$5.000
National Food:Ice Cream
Internet TLD:.id
Dialing number:+62
Independence day:June,10 2011
Paddle Pop Kingdom is a kingdom located at Baharu Village,West Borneo.Paddle Pop Kingdom is leading by a king named King Joni I.
History
PPK(Paddle Pop Kingdom)is founded to fight Republic of South Semotung(Reeland).Three child from middle semotung gang gathering for discuss about this country.This country is found based of a film,Paddle Pop Kingdom.
Government
PPK is leading by a King named King Joni I.The Prime Minister is Wido.PPK have a parliament named PPKP.
Regions
Regions of PPK is:
1.Paddle Pop Kingdom North
2.Paddle Pop Kingdom Central
3.Paddle Pop Kingdom South
Foreign Relation
PPK have good relation with all region of Baharu village,except RSS Reeland.PPK always insult and disturb Reeland's People.
Telecommunication
All communication network is this country is handled by PPK Telecom.
Media
This is the uniquely of PPK,PKK only have one newspaper,one radio and one television station.
Sports
PPK only have national team of Football and Sandal Hit.
Religions
PPK is dominated by Roman Catholic,but Animism and Kingdom Belief is recognized.
Military Force
PPK only have one military force.It is PPKAF.But,there is Kingdom guards.
Ad blocker interference detected!
Wikia is a free-to-use site that makes money from advertising. We have a modified experience for viewers using ad blockers

Wikia is not accessible if you've made further modifications. Remove the custom ad blocker rule(s) and the page will load as expected.