In the Slinky Empyre, the only official political parties are the parliamentary parties, which have equal voting power in Slinky Parliament. Currently, seven parliamentary parties have been formed.
Approved parties
Edit
The Slinky Party
Edit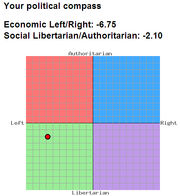 The Slinky Party, commonly abbreviated SliP, was the first approved party, and is led by André Sammut. It has a very short statute. To join, you must pass a small quiz (75%) and be voted by the people (25%).
A reform of the SliP has been planned by André Sammut of Sarenai Department.
To join,please ask the leader of our party, currently André Sammut.
Fyrst Parliamentary Party
Edit
Fyrst Parliamentary Party

Leader
to be elected
Founded
July 6, 2010
Ideology
N/A
Official colours
royal blue
This party is led by Kyng Fyrst.
Slinky Freedom Party
Edit
The Slinky Freedom Party is a Right-Libertarian party. It is a subdivision of the Conservative Party of the Republic of Secundomia.
Membership
Edit
League of Communists of the Slinky Empyre
Edit
A branch of the League of Communists of Nemkhavia, the LCSE is led by the overall General-Secretary of the LCN, Marka Mejakhansk. The LCSE is very first branch of the League of Communists to be established in the Parliament of another micronation, and represents the first move towards an intermicronational organisation.























Libertarian Party of Slin
Edit
It is led by William Danforth.
Eco-Slin's Party
Edit
Eco-Slin's Party

Leader
Kuri I
Founded
29th July, 2010
Membership
1
Ideology
Green Politics
National affiliation
Slinky Empyre
Official colours
Green
This party was formed on the 29 July, 2010 to advance environmental sustainability and awareness in the Slinky Empyre, and to make laws to protect the Environment. It is led by Kuri I.
Progressive Party
Edit
Progressive Party

Leader
Tom Turner
Founded
31st July 2010
Ideology
Progressivism, Pacifism, Libertarian Socialism
National affiliation
Slinky Empyre
Official colours
Purple

The Progressive Party is a Centre-Left, Libertarian, Progressive, Pacifist Party led by Tom Turner of the Hookwood Department. It was founded and approved on the 31st July 2010.
Proposed parties
Edit
Centrist Progressive Movement
Edit
Led by James Puchowski, current Protector of the
Llabdey Department
, and Premier of Landashir. A proposal was passed through
Landashir'n Government
, which allows the Landashir'n Government to cooperate with the Centrist Progressive Movement, and act as its higher body.
.
Ad blocker interference detected!
Wikia is a free-to-use site that makes money from advertising. We have a modified experience for viewers using ad blockers

Wikia is not accessible if you've made further modifications. Remove the custom ad blocker rule(s) and the page will load as expected.