This article is poor quality and as a result has been marked for improvement. Please discuss possible changes on the article's talk page.
Reason: No reason has been given, please provide a reason or this template will be removed.
Improvement Period: 03-13-2014 to 03-27-2014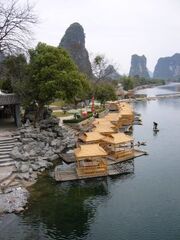 Pirkaa is a town on the banks of the great crater lake, Lake Takalata . Pirkaa is known for it's beauty, and most people out of the 67,843 who live there live on rafts out on the lake. The size of the town on land is very small. The rafts are moored to the land, so they can be pulled in at any time from maintenance or if the owner wants to go to the shops. (All facilities are on land apart from junk stores.)
Ad blocker interference detected!
Wikia is a free-to-use site that makes money from advertising. We have a modified experience for viewers using ad blockers

Wikia is not accessible if you've made further modifications. Remove the custom ad blocker rule(s) and the page will load as expected.