This article is poor quality and as a result has been marked for improvement. Please discuss possible changes on the article's talk page.
Reason: No reason has been given, please provide a reason or this template will be removed.
This page is a history of the Presidents of Columbian America.
Presidents of The United Republic of Boudreaulandia
Columbian America was established as the United Republic of Boudreaulandia on April15th, 2014. The first president was Spencer Boudreau, with Andrew Walling as Vice President. President Boudreau ended the four day long Joeland Revolt, where the provincial city of Joeland attempted to secede.
On May 19th, 2014, V.P. Andrew Walling lost interest and defected to America, thus necessitating the 2nd election.
Kindra Eubanks of Eubankia Province won the 2nd election, appointed Spencer Boudreau as Vice President, and soon passed many new laws, including legalizing gay marriage. On May 24th, the Congress voted to change the name of the country to Columbian America.
Presidents of Columbian America
After being elected mere days before the name being changed from Boudreaulandia to Columbian America, President Kindra Eubanks would automatically be the first president of Columbian America. The next election is on June 12th. Confirmed canditates as of June 2nd are Vice President Spencer Boudreau. It is rumored that current President Kindra Eubanks will run for a second term. As of June 4th, Spencer Boudreau, Kindra Eubanks, Destiny Cothren, Aubry Hopkins, and Roy McFreely are confirmed for running for office. On June 4th, Mathew Martin announced that he was running for office.
On June 5th, an emergency election was held. Then- President Kindra Eubanks tied in the votes with Vice President Spencer Boudreau. Mathew Martin won third and it was decided that in the event of a tie, the third place candidate would win. Martin named Ashlyn McCartney as Vice President. As of June 9th, several Senators and many residents are unhappy with the new administation. An official Impeachment may be in the works by the public. This is legal due to the article in the Constitution of Columbian America stating that Impeachment is done by Angry Mob or Senate vote.
On June 13th, 2014, Mathew Martin won the impeachment case and then subsequently named his V.P. as a new President. Spencer Boudreau, Mathew Martin, Joe Colwell and 2 other Columbian Americans won the trivia competiton Battle of the Brains at the local middle school. A prize was awarded. It was decided that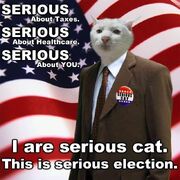 President Spencer Boudreau will stay in office until mid-September due to the summer break.
President Spencer Boudreau Opened Evelyn Dills Park in Stella on June 18th, 2014. At the opening he gave his first official speech since he started the country in April of 2014.
On June 20th, Boudreau traveled to Washington D.C. to tour the city on the nation's first diplomacy trip. He returned on June 25th to great fanfare.
First Ladies of Columbian America
On June 28th, 2014, Alyson Hall became Columbian America's first First Lady. The First Lady act was passed on this day, saying that the First Lady can either be 1. the wife of the President, 2. the girlfriend of the President, 3. the friend of the President selected to fill the position, and 4. the family memeber of the President selected to fill the position. First Ladies are to be mainly ceremonial but can also suggest legislature to the Congress or enact laws of her own.
List of Presidents of Columbian America

| Number | Name | Start | End | Party | First Lady |
| --- | --- | --- | --- | --- | --- |
| 1. | Spencer Boudreau | April 22nd, 2014 | May 20th, 2014 | Republican | none |
| 2. | Kindra Eubanks | May 20th, 2014 | June 5th, 2014 | Republican | none |
| 3. | Mathew Martin | June 5th, 2014 | June 13th, 2014 | Republican | none |
| 4. | Spencer Boudreau | June 13th, 2014 | Present Day | Republican | Alyson Hall |
| | | | | | |
Ad blocker interference detected!
Wikia is a free-to-use site that makes money from advertising. We have a modified experience for viewers using ad blockers

Wikia is not accessible if you've made further modifications. Remove the custom ad blocker rule(s) and the page will load as expected.