This article is poor quality and as a result has been marked for improvement. Please discuss possible changes on the article's talk page.
Reason: No reason has been given, please provide a reason or this template will be removed.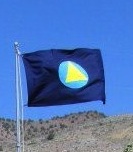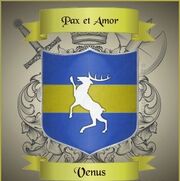 The Principality of Venus is an extraterrestrial micronation based on the planet Venus. It was formed on April 12th 2013.
Etymology
Edit
Old English, from Latin Venus (plural veneres), in ancient Roman mythology, the goddess of beauty and love, especially sensual love, from venus "love, sexual desire, loveliness, beauty, charm," from PIE root *wen- "to strive after, wish, desire, be satisfied" (cf. Sanskrit vanas- "desire," vanati "desires, loves, wins;" Avestan vanaiti "he wishes, is victorious;" Old English wynn "joy," wunian "to dwell," wenian "to accustom, train, wean," wyscan "to wish"). Applied by the Romans to Greek Aphrodite, Egyptian Hathor, etc. Meaning "second planet from the sun" is attested from late 13c. (Old English had morgensteorra and æfensteorra).
The venus fly-trap (Dionæa muscipula) was discovered 1760 by Gov. Arthur Dobbs in North Carolina and description sent to Collinson in England. The Algonquian name for the plant, titipiwitshile, yielded regional American English tippity wichity.
Visit to Molossia
Edit
In 2013, the Prince met with Kevin Baugh, leader of Molossia.
Foreign Relations
Edit
There is a minister of foreign relations. The High Prince has met with many foreign leaders.
As Venus does not have any oceans, there is no Navy. THe High Prince is supreme leader of the Military, which includes an Army, and an Air/Space Fleet.
Geography & Climate
Edit
Venus is one of the four solar terrestrial planets, meaning that, like the Earth, it is a rocky body. In size and mass, it is similar to the Earth, and is often described as Earth's "sister" or "twin".
Dimensions
Edit
The diameter of Venus is 12,092 km (only 650 km less than the Earth's) and its mass is 81.5% of the Earth's. Conditions on the Venusian surface differ radically from those on Earth, owing to its dense carbon dioxide atmosphere. The mass of the atmosphere of Venus is 96.5% carbon dioxide, with most of the remaining 3.5% being nitrogen.
Geography
Edit
The Venusian surface was a subject of speculation until some of its secrets were revealed by planetary science in the 20th century. It was finally mapped in detail by Project Magellan in 1990–91. The ground shows evidence of extensive volcanism, and the sulfur in the atmosphere may indicate there have been some recent eruptions. About 80% of the Venusian surface is covered by smooth, volcanic plains, consisting of 70% plains with wrinkle ridges and 10% smooth or lobate plains. Two highland "continents" make up the rest of its surface area, one lying in the planet's northern hemisphere and the other just south of the equator. The northern continent is called Ishtar Terra, after Ishtar, the Babylonian goddess of love, and is about the size of Australia. Maxwell Montes, the highest mountain on Venus, lies on Ishtar Terra. Its peak is 11 km above the Venusian average surface elevation. The southern continent is called Aphrodite Terra, after the Greek goddess of love, and is the larger of the two highland regions at roughly the size of South America. A network of fractures and faults covers much of this area. The absence of evidence of lava flow accompanying any of the visible caldera remains an enigma. The planet has few impact craters, demonstrating the surface is relatively young, approximately 300–600 million years old.
Unique Surface Features
Edit
In addition to the impact craters, mountains, and valleys commonly found on rocky planets, Venus has a number of unique surface features. Among these are flat-topped volcanic features called "farra", which look somewhat like pancakes and range in size from 20–50 km across, and 100–1,000 m high; radial, star-like fracture systems called "novae"; features with both radial and concentric fractures resembling spider webs, known as "arachnoids"; and "coronae", circular rings of fractures sometimes surrounded by a depression. These features are volcanic in origin.
Most Venusian surface features are named after historical and mythological women. Exceptions are Maxwell Montes, named after James Clerk Maxwell, and highland regions Alpha Regio, Beta Regio and Ovda Regio. The former three features were named before the current system was adopted by the International Astronomical Union, the body that oversees planetary nomenclature.
The longitudes of physical features on Venus are expressed relative to its prime meridian. The original prime meridian passed through the radar-bright spot at the center of the oval feature Eve, located south of Alpha Regio. After the Venera missions were completed, the prime meridian was redefined to pass through the central peak in the crater Ariadne.
Government & Politics
Edit
Venus is a Constitutional Monarchy. Ruled by a High Ruler and elected Ministers of departments.
Law & Order
Edit
As of 2013, the high ruler is the Cheif of Police. And Judge of all cases.
The Currency on Venus is a "Venu." It exchanges at 1 Venu = .5 American $ See also http://theprincipalityofvenus.blogspot.com/
==External Links==  National Website
References
Edit
Ad blocker interference detected!
Wikia is a free-to-use site that makes money from advertising. We have a modified experience for viewers using ad blockers

Wikia is not accessible if you've made further modifications. Remove the custom ad blocker rule(s) and the page will load as expected.