Pyramyd poetry (American English: pyramid poetry) is a type of poem that follows a roughly triangular text format, which could become a type of cultural element of Slinnysh culture.
History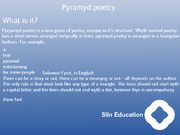 The concept for Slinnysh pyramyd poetry was conceived by Kyng Second Karl Friedrich during an online chat with former Kyng Fyrst Solomon Fyrst. Commenting on a promotional video for the 2013 Harmony Games, Friedrich wrote:
three seconds
of
pure
awesomeness
He noticed the triangular-like structure of the last three lines. Pyramyd poetry was born... or something, maybe. 
History
Solomon Fyrst and Karl Friedrich soon wrote others:
a
text
pyramid
entertaining
for some people
antidisestablishmentarianism
floccinauccinihilipilification
overmisunderestimate
intermicronational
endocrinology
kangaroo
spam
hi
     a


    cat
   looks
  outside
 sees stuff
has good time



                  a
               nice
            looking
          isosceles
        this is not
      really one or
    is it really it
  no we know its no
isoscely triangulum


–S. Fyrst
–S. Fyrst
–K. Friedrich
–K. Friedrich
Guidelines
Proposed guidelines are
Each line must not start with a capital letter nor end with a dot.
The poem must visually look like any type of a triangle. Depending on the type of the triangle, the sub-group of the poem is decided.
The poem does not have to make any sense.