| | |
| --- | --- |
| | This article is a stub. You can help MicroWiki by expanding it. |
Scotan Labour (Scotan Labour Party) is a political party in the Republic of Scotannaea founded in November 2013. It's ideology is to make social classes equal to one another, control crime & unemployment levels within society and make a rise to nationalisation in government corporations.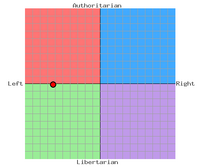 Scotan Labour currently holds 4 seats in the National Assembly of Scotannaea but will have to wait until the next Scotan General Election to see which seats Scotan Labour will occupy in the National Assembly.
| | |
| --- | --- |
| | This article, Scotan Labour, has been requested to be deleted by the user who created this page, any abuse of this template may result in a ban. Please, create a talk page for this issue. |
Ad blocker interference detected!
Wikia is a free-to-use site that makes money from advertising. We have a modified experience for viewers using ad blockers

Wikia is not accessible if you've made further modifications. Remove the custom ad blocker rule(s) and the page will load as expected.