The Sharawite Federation of Arabia is a country situated in the African continent, located between Egypt and Sudan n an area named Bir Tawil. The Supreme Guardian of Arabia is Ahmad Sharawi.The capital city of Arabia and its largest city is Allona.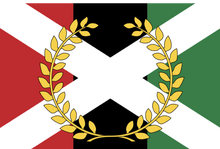 The Sharawite Federation of Arabia is a fledgling, cultured nation, remarkable for its compulsory military service. The hard-working, devout population are highly moralistic and fiercely conservative, in the sense that they tend to believe most things should be outlawed. People who have good jobs and work quietly at them are lauded.
The relatively small government juggles the competing demands of Spirituality, Welfare, and Law & Order. Citizens pay a flat income tax of 1.4%.
The strong economy, worth 287 billion Comers a year, is broadly diversified and led by the major contributions from Woodchip Exports, Gambling, and Arms Manufacturing. Average income is 57,576 Comers, with the richest citizens earning 5.9 times as much as the poorest.
Crime, especially youth-related, is totally unknown, thanks to a capable police force and progressive social policies in education and welfare. Sharawite arabia's national animal is the Gemsbok, which can occasionally be seen sifting through garbage in the nation's cities.
Ad blocker interference detected!
Wikia is a free-to-use site that makes money from advertising. We have a modified experience for viewers using ad blockers

Wikia is not accessible if you've made further modifications. Remove the custom ad blocker rule(s) and the page will load as expected.