His Grace

The Duke of Redcaster

King of Harenfall

Reign
September 26th 2013 - January 24th 2015

King of Arms

tenure
February 21st 2015 - present
Predecessor
position established
Full name

Sivert Jeffrey Ferdinand Charles

House
House Of MacLean
Father
Jeff MacLean
Mother
Marit Swensen
Born
August 2nd, 2001
Bodø, Norway
Religion
Protestant Christian
Jeffrey MacLean is a micronationalist, and former King of the now defunct kingdom of Harenfall. 
Jeffrey MacLean was born in Bodoe, Norway in 2001. He began his micronational career in september 2013, when he founded the Kingdom of Harenfall. He developed said kingdom between late 2013 and early 2015, establishing a goverment, entering into diplomatic relations with several micronations, founding various state establishments, and even a royal society for maintaining heraldry within the nation. He, and with the assistance of other members of the goverment, decided to arrange a vote on weather or not to join the micronation, the Empire of Austenasia, wich the majority of the micronation voted yes for. Thus, he and his goverment signed a paper, authorizing the annexation by Austenasia, and Harenfall, as a soveriegn Kingdom ceased to exist. Since the 25th of January 2015, he was the acting representative for Harenfall in the Parliament of Austenasia, during wich he proposed an act to establish a heraldic authority in the country. The act was passed, and he was made head of the institution he had proposed, the College of Arms as the "King of Arms". 
Personal Life

Edit
Jeffrey is interested in history, and focuses mainly on medieval and renaissance periods. Other interests include, archery, music, nature and fishing with nets. He is a keen muscician, and plays several instruments including the bombarde, the guitar, and the ocarina. 
Honours and Awards
Edit
​FOREIGN HONOURS AND AWARDSEdit
Knight of The Order of The Golden Dragon
 Honorary Grand Duke of Imvrassia
Knight of the Order of St. Stephen
Titles and styles
Edit
2001 - 2013 "Sivert MacLean"
2013 - 2015 "His Grace King Jeffrey the first of Harenfall
2015 - 2015 "The Honourable, Sir Jeffrey MacLean KGD KOS GDI
29th January 2015 - present "His Grace, Lord Jeffrey MacLean
​Full title His Grace, Lord Jeffrey MacLean, Duke of Redcaster, King of Arms, Honorary Grand Duke of Imvrassia, Knight of The Order of the Golden Dragon, and Knight of the Order of Saint Stephen
Seals, Arms, and Standards of Jeffrey MacLean
Edit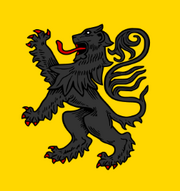 Banner of Jeffrey MacLean, adopted during his reign of Harenfall as King Jeffrey of Harenfall. Adopted as his personal standard later.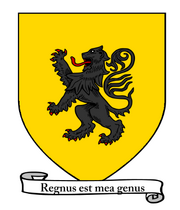 blazon of Jeffrey MacLean The shield was adopted during his reign as King of Harenfall, but after his abdication it has been used as a personal blazon.