The Programme
The Strakan Overseas Citizenship Programme is a platform for an overseas citizenship application to the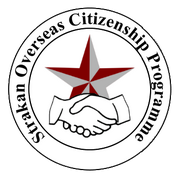 People's Democratic Republic of Straka
. Prospective citizens can apply for overseas citizenship. If accepted, they officially gain the status of Overseas Citizen, differentiating from Citizen status by the fact that they do not have permenant residence in the PDRS.
Conception
The Strakan Overseas Citizenship Programme was created in April 2012 by Minister James Deverson of the National Communist Party of Straka. The programme was created with the purpose of increasing Straka's population with international citizens. Though Straka's annual nation-wide census is not released to the public, the National Communist Party has deemed the programme a success.
Barred Nations
Citizens of Taiwan and South Korea are ineligable for overseas citizenship status as the PDRS views both as rebel provinces and not sovereign nations (see recognized nations).
Those who wish to become citizens of the People's Democratic Republic of Straka can apply here.