Sumac Department is the thirteenth department of the Slinky Empyre.
Landmarks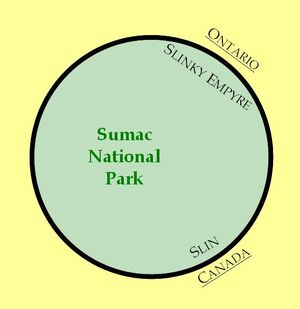 Sumac National Park
Sumac National Park takes up the entire department, approxiately one-thirtieth of an acre. Vyceroy Kuri protects Sumac as its Park Manager.




Slinky Empyre

government
diplomacy, Kyng, Parliament, offices and positions

businesses
education, tourism, treasury, military, post

territory
Saint Rychard Dpt., Herway Dpt., Llabdey Dpt., Tyncomarus Dpt., Hookwood Dpt.,
Amono Dpt., Lookout Dpt., Hayland Dpt., Sarenai Dpt.,
Tergumterra Dpt., Sumac Dpt., Iyabi Dpt., Georgeton Dpt., Haynes Dpt.

culture
language, symbols, Slinky Award of Appreciation, Royal Pryze, Slinky Science Instytute
Micronational Activity Review, Micronational Monthly, Slinky Monthly
Ad blocker interference detected!
Wikia is a free-to-use site that makes money from advertising. We have a modified experience for viewers using ad blockers

Wikia is not accessible if you've made further modifications. Remove the custom ad blocker rule(s) and the page will load as expected.