The Sovereign Kingdom of Avalon was founded on March 11, 2013 by HRH Prince Lleiffer Mawr, Pendraig of Avalon.
Etymology
Edit
((INSERT INFORMATION ABOUT THE ORIGINS OF THE NAME OF YOUR MICRONATION))
((INSERT A SHORT HISTORY OF YOUR MICRONATION [i.e. a few important events]))
Government & Politics
Edit
The Sovereign Kingdom of Avalon is a Druidic Theocractic Monarchy, headed by the Pendriaig (Cymraeg, "Head of the Dragon") a sacred king, and supported by a Council of Noble Houses, each led by a Chieftain Prince or Princess. Each Prince or Princess is also a Priestess or Priest of the Ancient Mysteries of Avalon, a Brythonic Tradition of 'Witchcraft'.
Law & Order
Edit
((INSERT INFORMATION ABOUT JUDICIAL SYSTEM, POLICE, ETC.))
Foreign Relations
Edit
((INSERT INFORMATION ABOUT THE RELATIONS THAT YOUR MICRONATION HAS WITH OTHER MICRONATIONS))
((INSERT INFORMATION ABOUT THE STRUCTURE OF THE MILITARY, DIFFERENT BRANCHES, WEAPONRY, CONFLICTS INVOLVED IN, ETC.))
Geography & Climate
Edit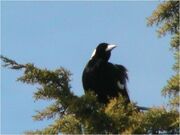 ((INSERT TEMPERATURE, WEATHER, TERRAIN, LOCATION AND OTHER RELATED INFO HERE))
((INSERT FISCAL INFORMATION, LIKE EXPORTS, IMPORTS, INDUSTRIES, ETC.))
((INSERT INFORMATION ABOUT THE CUSTOMS, EDUCATION, LANGUAGE(S), THE ARTS, ETC.))
{{INSERT INFORMATION ABOUT THE PRESS, TELEVISION, ETC.))
((INSERT A FEW PAGES RELATED TO THIS PAGE HERE))
External Links
Edit
((FAIRLY SELF-EXPLANATORY))