Tyncomarus Department
annexation date
January 26, 2010
leader
Margaret Austen
land area
52.9 sq feet
languages
Slin-Englysh
abbreviation
TM
Tyncomarus Department is the fifth department of the Slinky Empyre. Founded on 27 January 2010, the land consists of a rectangle of cemented gravel in an alleyway near the Austenasian Imperial Residence.
Landmarks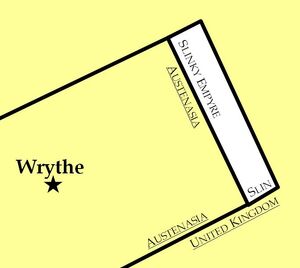 Tyncomarus Department borders the United Kingdom and the Empire of Austenasia. It is part of Commius Flats, and contains the lowest point in the Slinky Empyre.




Slinky Empyre

government
diplomacy, Kyng, Parliament, offices and positions

businesses
education, tourism, treasury, military, post

territory
Saint Rychard Dpt., Herway Dpt., Llabdey Dpt., Tyncomarus Dpt., Hookwood Dpt.,
Amono Dpt., Lookout Dpt., Hayland Dpt., Sarenai Dpt.,
Tergumterra Dpt., Sumac Dpt., Iyabi Dpt., Georgeton Dpt., Haynes Dpt.

culture
language, symbols, Slinky Award of Appreciation, Royal Pryze, Slinky Science Instytute
Micronational Activity Review, Micronational Monthly, Slinky Monthly