This article has been proposed for deletion by one or more users.
But the editor who placed this tag failed to give a rationale by using the format.
Please use the talk page for further discussion and remember to abide by our deletion policy.
The Union of Francisco Bay Provinces, commonly known as Francisco Bay, was founded on June 12, 2010 in Alameda, California. It is based off of capitalism and republicanism. It combines these to form the government of the confederate union between the six provinces.
Etymology
((INSERT INFORMATION ABOUT THE ORIGINS OF THE NAME OF YOUR MICRONATION))
History
((INSERT A SHORT HISTORY OF YOUR MICRONATION [i.e. a few important events]))
Government & Politics
((INSERT INFORMATION ABOUT YOUR GOVERNMENT TYPE, MINISTRIES, HOW THE LEGISLATURE [or parliament] RUNS, ETC.))
Law & Order
((INSERT INFORMATION ABOUT JUDICIAL SYSTEM, POLICE, ETC.))
Foreign Relations
((INSERT INFORMATION ABOUT THE RELATIONS THAT YOUR MICRONATION HAS WITH OTHER MICRONATIONS))
Military
((INSERT INFORMATION ABOUT THE STRUCTURE OF THE MILITARY, DIFFERENT BRANCHES, WEAPONRY, CONFLICTS INVOLVED IN, ETC.))
Geography & Climate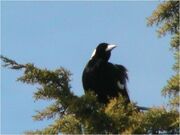 ((INSERT TEMPERATURE, WEATHER, TERRAIN, LOCATION AND OTHER RELATED INFO HERE))
Economy
((INSERT FISCAL INFORMATION, LIKE EXPORTS, IMPORTS, INDUSTRIES, ETC.))
Culture
((INSERT INFORMATION ABOUT THE CUSTOMS, EDUCATION, LANGUAGE(S), THE ARTS, ETC.))
Media
Template:INSERT INFORMATION ABOUT THE PRESS, TELEVISION, ETC.
See also
((INSERT A FEW PAGES RELATED TO THIS PAGE HERE))
External links
((FAIRLY SELF-EXPLANATORY))